Adina Sella: Child of the Holocaust Tells Story of Lifelong Survival
The story of Clare resident Adina Sella is one of survival.
Adina was born in 1936 in Nazi Germany. She fled with her Jewish family to Italy, where she rode out the war in hiding thanks to gracious Italian families. She grew up in the midst of the Holocaust, her girlhood tainted with oppression and fear.
But Adina's survival story extends far beyond her Holocaust experience. Every stage of her life has revolved around survival and the lengths she has gone to realize her talents and battle her demons.
At the end of World War II, Adina went with her mother and brother to Israel (then called Palestine), where she attended school and later served as an officer in the Israeli army. When her service ended, her parents urged her to attend Heidelberg University in Germany, and Adina refused. She couldn't fathom taking classes and interacting with people who may be "the children of the killers of my people."
Adina needed to rescue herself. She needed to survive. Instead, she suggested studying translation and interpretation at the University of Geneva in Switzerland, and her parents agreed.
"That was an escape route for me," she says.
But Adina quickly realized interpretive studies was not for her. She felt miserable with her day-to-day tasks and assignments. That was until she met a fellow Israeli student during lunch one day, who told Adina she was studying psychology.
"I immediately asked her what that is," Adina says. "I had no notion, just no idea what psychology is. But as soon as she told me, I said, 'This is it!' And I switched. That was the beginning of great joy for me."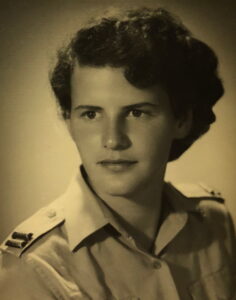 Survival through Her Career
At the University of Geneva, Adina met her husband, Michael, a driving force on her road to recovery. When he secured a medical internship at the University of Washington in Seattle, she went with him and got a job testing children with congenital defects.
"It had nothing to do with what I learned," Adina says. "Again, I had to go back to my resourcefulness."
Adina spent her evenings observing how other psychologists tested the children and followed their lead. She survived. And this lead to tremendous success. Within a year and a half, Adina had the opportunity to present a research paper to the American Academy of Pediatrics.
The pattern continued as Adina and Michael moved from one place to the next. Michael decided he wanted to focus on neurology at Mount Sinai Health System in New York City. When they moved, everywhere that Adina applied to work required a Ph.D., which she didn't have. With a daughter, she also realized she would have to find child care.
Again, it all worked out. Adina randomly received a letter from Columbia University offering her a position conducting a research study. She had been recommended by a professor there who she didn't know personally, but who learned she had studied with famed Swiss psychologist Jean Piaget. She accepted the job. Three years later, Adina applied for a role as a school psychologist. She didn't have the correct accreditation, so the school gave her a year to become certified.
The family later moved to Chicago, and Adina went on to earn her Psy.D. from the University of Chicago at the age of 58. She and Michael opened their own practice in Arlington Heights, working with children with learning disabilities. And she rounded out her career in clinical psychology.
In each phase, with each obstacle, Adina found a way to overcome, whether by sheer luck, cleverness or connections.
"I always had to reshape something to achieve parity," she says. "I was thrown into situations, and I had to survive again and again."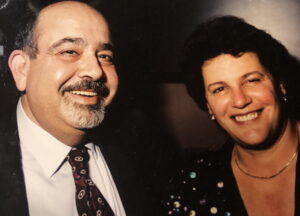 Survival within Herself
From the day her daughter was born until she graduated from high school, Adina went to therapy to work through her childhood trauma and learn how to better handle her emotions. A therapist in New York City who she saw for seven years made the biggest difference.
This therapist was a survivor of the Holocaust, and she had a daughter about the same age as Adina.
"Because her daughter was my age and they went through what I went through – maybe less than me, because they managed to come here earlier – I think she was even more dedicated to helping me learn how life is done," she says.
During that time, Adina began to understand why certain things provoked a sense of anxiety for her. She became more adaptive. She began to mend her fractured soul.
"I was able to think through things without immediately feeling like I have to survive," Adina says.
And so, this is the story Adina has shared as a volunteer at the Illinois Holocaust Museum and across various media platforms. It is one that may differ slightly from others who lived through the Holocaust. Adina's is a story that applies universally and encompasses any child in distress who struggles to form solid coping mechanisms and habits.
"It's important for people to understand that childhood is not just there to annoy parents," Adina says. "It's a lab to become a competent member of society, to be able to function."
Now, a new interactive exhibition at the Illinois Holocaust Museum immortalizes Adina and her unique story of survival, where visitors can speak with holograms of survivors. Her survival also continues at The Clare, where she thrives thanks to laughter, care and relaxation.
"What saved me in my life was my ability to laugh," Adina says. "That I brought with me to The Clare."
And while the Holocaust will always mark Adina's childhood and development, it no longer holds her hostage.
"You can heal," she says. "You have to decide you don't want to suffer so much."