Artist Profile, Marcia Fensin: Your Art Should Reflect You
As a child, Clare resident Marcia Fensin often went to the forest preserve with her uncle, equipped with brushes and watercolors. The pair would sit in nature for hours on end, experimenting with the paints and interpretations of the scenery.
From there, Marcia's love for art only grew.
"I've become very proud of the art I do," she says. "But it took me a long time to get there."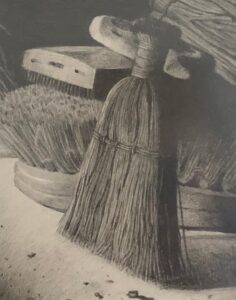 Initially, Marcia's career didn't directly involve art. She attended a branch of the former Chicago Teacher's College, which later became Northeastern University, and went on to primarily teach second- and fifth-graders in Chicago Public Schools, as well as English as a Second Language.
However, Marcia incorporated art into her teaching. Having played the piano since she was 6 years old, Marcia keyed out march songs for her students to get up and move around. She brought the kids to the Art Institute of Chicago, where they had never been.
Marcia's teaching career later blended with her passion for art. She designed a class with Woman Made Gallery in Chicago, called "Finding Your Creativity," in which she allowed adult students to explore their artistic sides with various mediums. One session might entail painting with acrylics and placing the canvases together to create a mural. Another might involve shaping something that represents love out of self-drying clay.
The key, Marcia says, was providing her students with the freedom and space to tap their unique sense of creativity.
"I never allowed anybody to criticize anyone else's work," she says. "Your art should reflect you."
Marcia also owned her own business for 8 years, a store called Craft Connections located at the corner of Fullerton Parkway and Clark Street in Lincoln Park. Here, she sold completed crafts that she curated from around the country.
Otherwise, Marcia focused on art of her own. Over the years, she took classes at the School of the Art Institute of Chicago, the American Academy of Art and the Evanston Art Center, among others. She learned to draw, sculpt, paint and more.
"I find that the more I do, the better I get," Marcia says. "As I've gotten older, I'm more apt to experiment and take chances."
Her inspiration for experimentation stems from various sources. She spent quite a bit of time exploring museums across Europe, along with many in Chicago. More recently, magazines and everyday objects serve as her muses.
"Sometimes I tear pages out of magazines or somebody will give me a calendar, and I interpret them differently on canvas," she says. "You can take something, use it as a source and change it completely to suit yourself."
Which is exactly what Marcia did with two of her most popular works. She used acrylic paint to create a rendition of Whoopi Goldberg based on a photo she really enjoyed.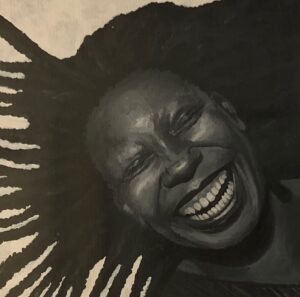 Meanwhile, pastels were the medium for her piece titled "Abba Dabba," modeled after a photo found in National Geographic.
And with several class offerings in The Studio at The Clare, Marcia has the opportunity to continue trying out different styles and mediums.
"The thing with art is, there's always more to learn," she says.