Artist Profile, Wendy Nixon: With Art Comes Healing
For some, art is simply a hobby. For others, art is a way to make a living. But for Clare resident Wendy Nixon, art is a means of survival.
"My definition of peace of mind, healing and happiness is closely associated with artistic expression," Wendy says. "The older I get, the more I believe that arts, crafts and writing hold far more answers to my health issues than doctor's visits."
Wendy has had cancer for 43 years, although it went undetected for a very long time. She says she knew intuitively that something was very wrong, but in the days of first no mammograms and then imperfect ones, it took 15 years to finally get a diagnosis of stage 3 breast cancer.
Her diagnosis came in the midst of a 36-year career as a flight attendant. This job allowed her the time to travel the world and pursue many different artistic interests on the side, such as having a Peruvian import shop, working with an airline travel company, buying and selling estate jewelry, creating wearable art and more. Over time, she says, each hobby eventually subsides and something else takes its place.
"It was such a free life, a free existence that it gave me a great chance to explore," Wendy says.
As for art lessons, she hasn't taken many.
"I prefer the flow that happens when I don't get bogged down with too much technique," she says. "My philosophy is a bit like, 'If all else fails, read the rules!'"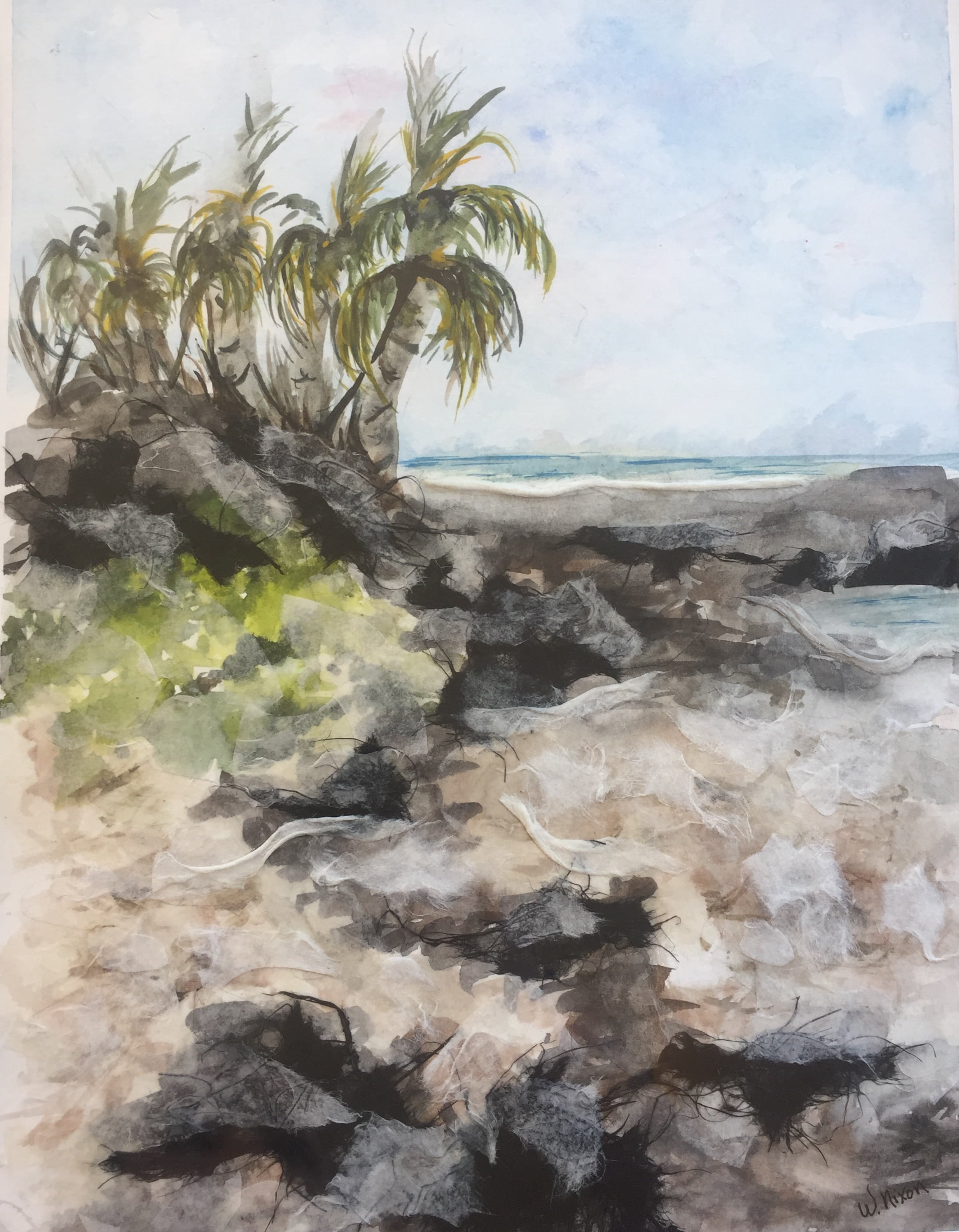 Her creativity, she believes, has led to her healing.
Ten years ago, Wendy was diagnosed with stage 4 cancer in her liver and lymph system. Her oncologist let her know this stage of cancer carries an average life expectancy of two to three years. But at her last CT scans in May, her doctor said no trace of new cancer could be found – years after her fate was seemingly sealed.
"The more I keep busy with my hands doing creative things, the more I feel that I am a survivor," Wendy says. "I think my spiritual framework, which among other things includes 25 years of work in Reiki energy healing and 16 years as a peer counselor with Y-ME National Breast Cancer Organization, plus my creativity, has been what's kept me alive."
And her creativity continues to evolve. About eight years ago, Wendy picked up watercolor painting, partially by chance. She and her husband spend their winters in Hawaii, and she broke her wrist a week before they left, forcing her to sit out on round after round of golf that year. Even though her right wrist was the one afflicted, she still found herself able to use a brush and create the strokes necessary for watercolor.
Now, Wendy continues with watercolor, yet she adds additional elements and textures with a collage style.
"Watercolor can be as simple or complex as one chooses, but I find my most satisfying and pleasing products are done rapidly," Wendy says. "I believe some of the best watercolor painting can be like a visual haiku – brief, deep and memorable."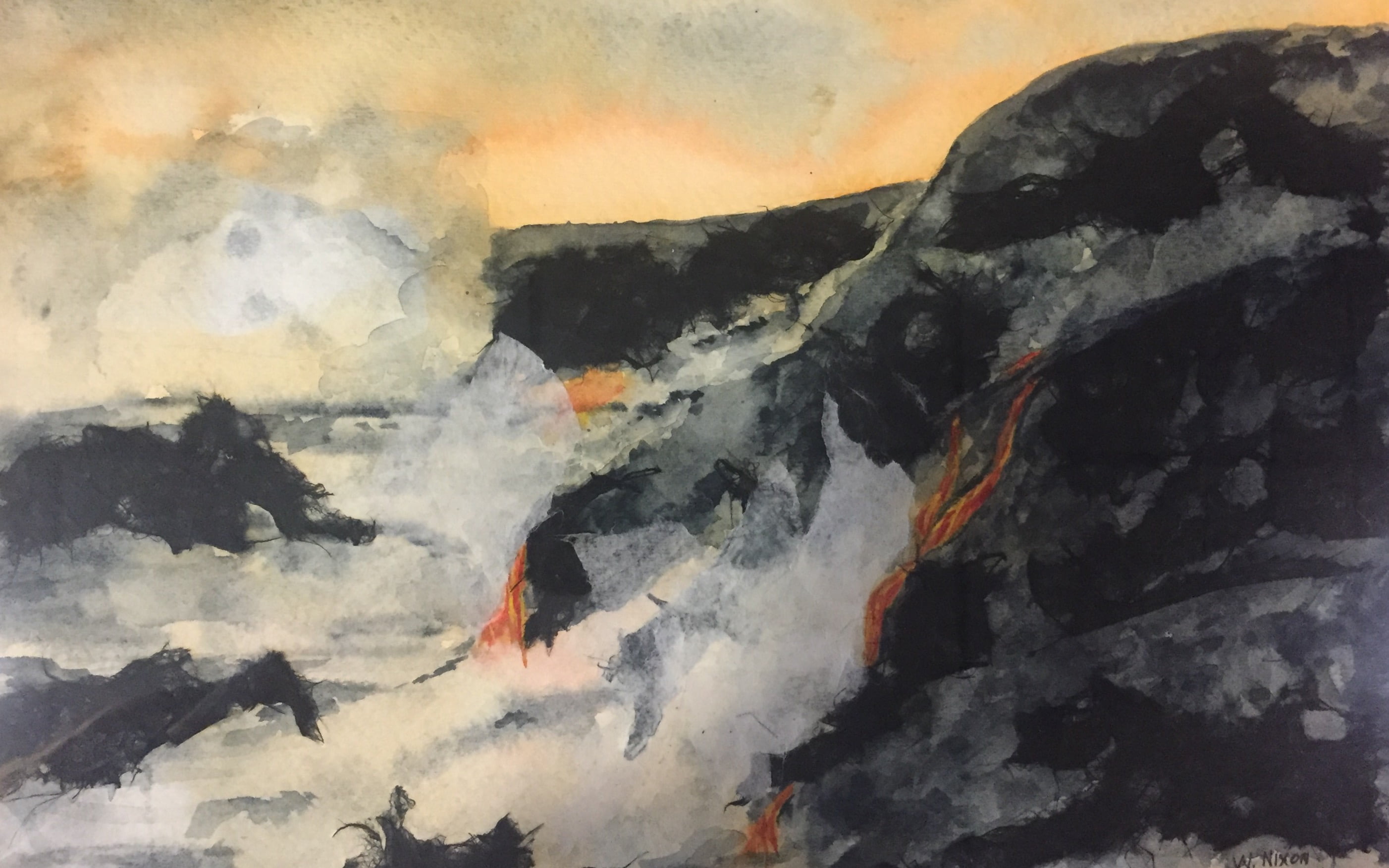 Often, Wendy paints based off of haikus she writes. In one instance, a fellow Clare resident wrote a poem, and Wendy immediately envisioned a scene in her mind.
"Sometimes I can just be walking along and I think of something, get a visual and go from there," she says.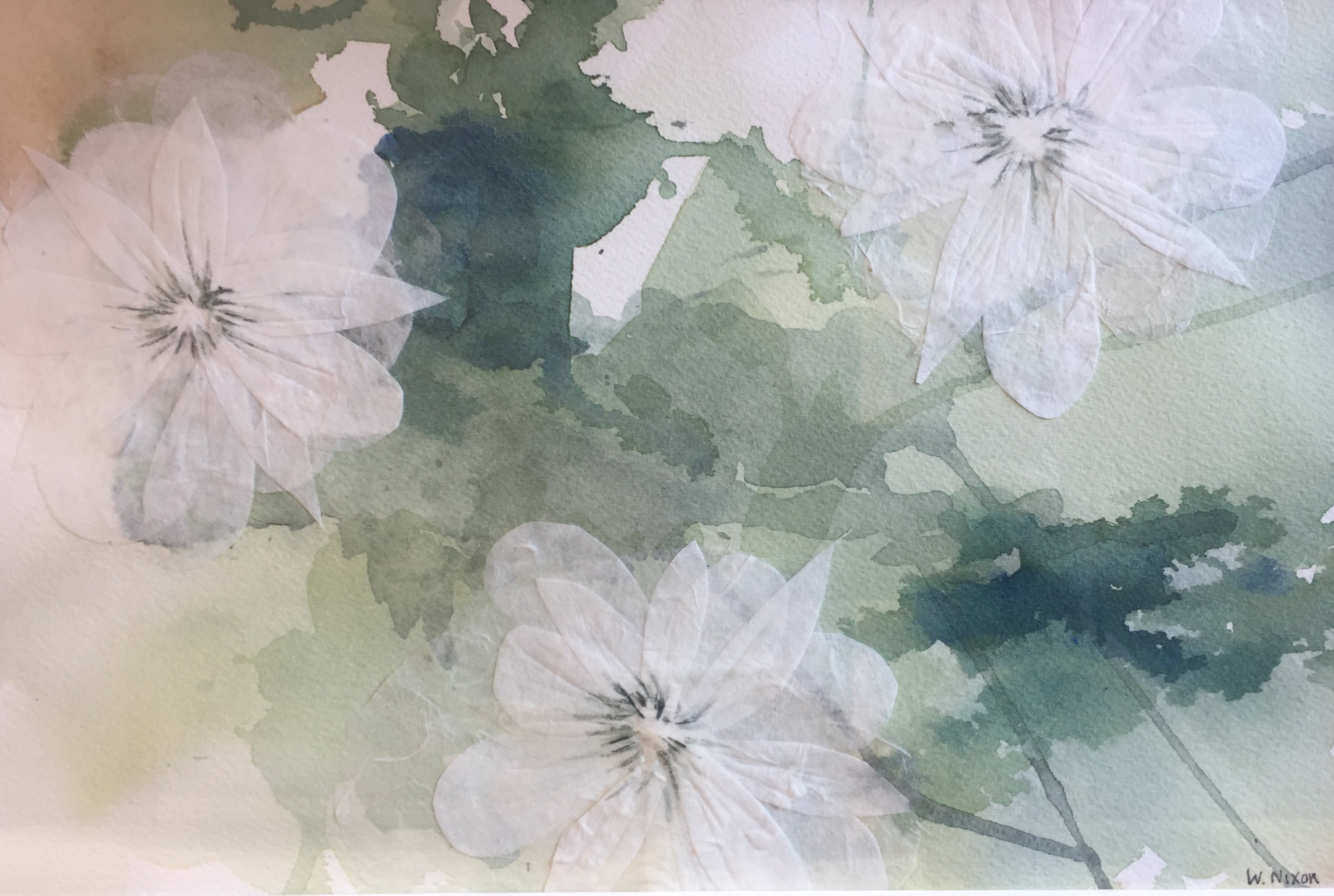 Moving forward, Wendy simply wants to stick with her creativity and paint when inspiration strikes.
"Just doing what I'm doing and seeing what happens is all I have in mind as far as my evolution," Wendy says. "I don't plan to be a famous artist in any way, shape or form."