Exercise for Seniors: Staying In Shape at Any Age
As we age, it becomes more and more important that we continue to set personal fitness goals and push ourselves to maintain our physical health. Exercise for seniors doesn't have to be a daunting endeavor, either.
A growing body of evidence shows that lifestyle and nutrition choices affect whole-person wellness. Plus, physically well seniors enjoy numerous health benefits, such as stronger bones, reduced joint and muscle pain, better balance, improved mobility, slower loss of muscle mass and most importantly, a longer, healthier life.
Today, more seniors are realizing these advantages and becoming involved in sports, recreation or other more traditional exercise programs. No matter what kind of activities you participate in, spending a little time each day doing some type of physical activity can greatly improve your quality of life.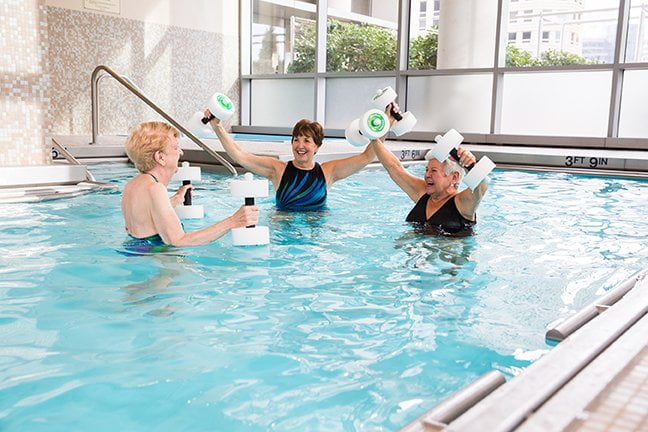 It All Adds Up
Physical activity doesn't have to be strenuous to improve your wellbeing.
For substantial health benefits, guidelines recommend that most older adults participate in at least 150 minutes of moderate-intensity aerobic activity two days a week. Older adults should also engage in strengthening activities that involve all major muscle groups at least two days a week.
However, this can be broken into shorter periods of exercise – a brisk, 10-minute walk in the morning, a few minutes gardening in the afternoon and practicing yoga before bedtime. Whatever your personal interests may be, fitting a variety of activities into each day will help keep you motivated.
The Clare makes staying in shape easy at any age. For example, we have a certified exercise physiologist on staff. She manages our Health & Wellness Center, leads group fitness and creates individualized training plans. Throughout the week, residents can participate in cardio, strength, yoga, Tai Chi and other interactive classes. They can also work out on their own with various cardio and weight machines at the fitness center.
Know Your Resources
Many organizations offer resources around exercise for older adults to help them stay as active as possible. AARP, for instance, offers 25 quick tips on how to become more active, including:
– Find a friend to exercise with you to keep you motivated
– Set specific short- and long-term goals
– Wear the right shoes
– Do balance as well as strength exercises
Of course, our exercise physiologist serves as an excellent resource at The Clare, with whom you can consult about what exercises you're most interested in, which ones will work best for you and what you're hoping to achieve.
Becoming physically well is the key to a longer, healthier and happier life. Why not get started today?