Featured Floor Plan: The Whitehall
When someone mentions a luxury high rise in the middle of everything Chicago has to offer, "cozy" may not be the first thing to pop into your mind. But that's exactly what we hear when people tour the one-bedroom Whitehall floor plan here at The Clare, and we're proud we were able to inspire those comments while still delivering on the quality level you would expect from this premiere location.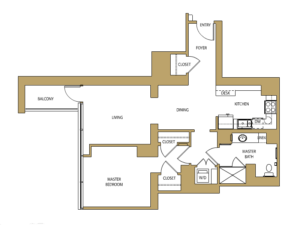 Stepping through The Whitehall foyer puts you in the center of your living and entertaining space. An open kitchen flows into the dining room and living area, with plenty of space to entertain or enjoy time outdoors on the balcony taking in the views of the city.
Your master bedroom is secluded and private, with plenty of closet space and storage for your favorite things. The bathroom is well designed and complete with features that make it feel comfortable and special at the same time. Each Whitehall residence also comes with its own washer and dryer, putting every convenience at your fingertips when you want or need it.
And, of course, this is just your personal space at The Clare – the real value of the one-bedroom Whitehall is that it comes with its own concierge service, onsite fine and casual dining, planned social events and outings, and access to everything a world-class city like Chicago has to offer. Add the peace of mind of multiple onsite healthcare services, from assisted living to memory care, and you have a home that will always allow you to live in the heart of it all with the highest possible quality of life.
Click above or call us at 312-784-8015 to take a look at The Whitehall, or any other floor plan that you feel is right for you. We're happy to arrange a special tour and answer any questions.