How Life Plan Communities Promote Long, Healthy Lives
It's often said that residents in life plan communities such as The Clare live longer, healthier lives.
That's largely because our community and others like it strive to maintain an active and robust lifestyle for residents through healthy dining options, stimulating social interactions and diverse learning opportunities. Though research currently available doesn't necessarily quantify a life plan community's impact on the length of someone's life, there's no question that they encourage wellness among older adults.
How exactly, you ask? Below are some specifics on how life plan communities promote an enhanced lifestyle for a healthier aging process.
– Fitness centers and exercise classes: The health benefits of staying physically active are countless for people of any age, and especially for seniors. Research suggests that an active senior lifestyle can add as many as five years to your life. As such, onsite fitness centers, typically with a pool, have become staples in life plan communities, and The Clare is no exception. In fact, our community has a certified exercise physiologist on staff who manages our fitness center, leads group fitness and creates individualized training plans. Throughout the week, residents can participate in cardio, strength, yoga, Tai Chi and other interactive classes.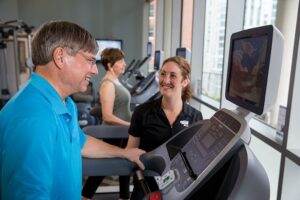 – Varied social, spiritual and educational programming: Physical activity is only one piece of the wellness puzzle—social, spiritual and educational experiences also contribute tremendously to an overall sense of wellness. At The Clare, residents can enjoy weekly Mass and Shabbat services in our chapel, and we host a happy hour ever Thursday, in addition to several other social activities scattered throughout the week. That's not to mention the learning opportunities we provide, such as resident teachings through Clare University, lectures on topics like theater, literature, history and more from experts and clubs focusing on memoir writing and computers. The Clare takes life enrichment seriously, as other life plan communities surely do, and this certainly contributes to the quality and longevity of life.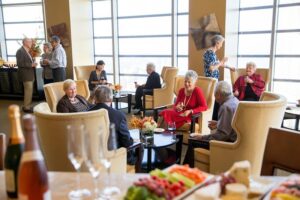 – Extensive health care possibilities: When you enter a life plan community, you have the option to receive the care you need as you age. Life plan communities combine independent living with onsite health care services you may need later in life, such as assisted living, skilled nursing and memory care. Depending on your financial agreement, some or all of these services may be available to you. Within The Clare you'll find The Terraces, where you can receive some extra help from day to day, rehabilitation services, memory support and short- or long-term skilled care. We have a home health partner and a wellness center at our community, as well, meaning you'll have convenient access to preventive care and health care providers.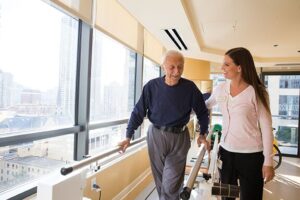 – Nutritious (and delicious!) food choices: Last but not least, maintaining a health diet is a breeze at life plan communities, thanks to the array of food and dining choices available to residents. There are four permanent restaurants at The Clare, for example, including The Bistro as a casual option, The Grafton formal dining room, The Lounge with a bar-like atmosphere and The Abbey on 53 for swanky dinner affairs. What's more, The Clare has a registered dietician on staff, and our building is located within walking distance of some of Chicago's best-known restaurants. You won't go hungry living at The Clare, that's for sure, and you're promised well-balanced meals at every turn.