Journalists of The Clare: Residents Reflect on Careers in Journalism
Those who choose to live at The Clare lead rich, fulfilling lives. Among the resident ranks are lawyers, doctors, professors, artists and more – and notably, quite a few journalists.
Journalists of The Clare won Pulitzer Prizes. They worked for the likes of The Wall Street Journal and Chicago Tribune, reporting on topics ranging from politics to local issues and serving as movie critics. They broke down barriers in the field and continue to impart wisdom to the journalists of the future.
Four Clare residents and former journalists reflect on their careers, their accomplishments and their struggles, and how the media has changed over the years.
Forging a path for women
Producing honest, unbiased reporting was always Lois Wille's goal. Whatever became of it, she would simply be pleased with where she had come from and what she was doing.
Little did she know that this earnestness and dedication would lead her to the most prestigious award in journalism – twice.
In 1963, Lois steered the late Chicago Daily News to a Pulitzer Prize in Public Service, thanks to her unprecedented five-part series on women's health and access to birth control. Her second Pulitzer came in 1989 for editorial writing after she wrote a collection of commentaries about Chicago politics as Chicago Tribune editorial page editor.
"It meant a great deal, both to me personally and for my career," Lois says. "It still was a time when a woman getting a Pulitzer was pretty rare. The second one perhaps meant even more, because there was a second one at all."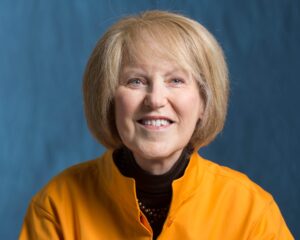 Being a woman in the field, too, was rare early in her career.
"The jobs were hard to get. The excuse we kept hearing: 'Well, what if you get pregnant? Then you're going to quit,'" Lois recalls. "And what do you say? You vow never to get pregnant? It was nonsense, and it's something a boss or editor would never dare say today."
Now, she says, the tides have turned, with far more women in journalism than when she began. And the task at hand remains as crucial as ever, regardless of gender.
"I would give women the same advice I would give to male journalists: Try your best to be accurate and fair in your reporting and your interpretations," Lois says. "Whether you're male or female should not make a difference."
Imparting wisdom to future journalists
As a reporter, lawyer and professor, Joe Mathewson certainly made the most of his career – and still does as he educates future journalists.
After a stint in the Navy, he secured a job with The Wall Street Journal in 1959, starting off as an assistant on the stock market desk, going on to cover the retail industry and winding up in Washington, D.C. to report on Congress and the Supreme Court. He concluded his time with the paper in Chicago, with the farm equipment industry as his beat.
From there, Joe spent some time as a broadcast journalist on Chicago's CBS WBBM-TV channel 2 news. His Supreme Court coverage, however, inspired him to go back to school for his law degree at age 40, and practiced for a number of years. He then stumbled into education when a friend asked him to teach a business journalism course at the Medill School of Journalism at Northwestern University. He was curious yet reserved about the opportunity, he says, and he ultimately agreed.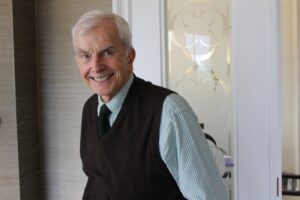 Now, 21 years later, Joe continues to teach business journalism at Northwestern, as well as an ethics and law course. He was recently signed for three more years.
"I love working with young people and helping them prepare for a profession that is vital to our democracy," Joe says.
In fact, Joe has his students consider the importance of journalism's role in democracy early in the semester.
"Journalism students need to spend some time thinking about what they're doing and the significance of it in our democratic system," he says. "You can't have a working democracy if the population is not informed, and any country that purports to be democratic but represses the press is not democratic in the way we conceive of it."
One example in particular he likes to share with his students involves a quick decision he had to make while at CBS. He was assigned to a story of a drowned child at the lakefront near Grant Park. The body had been pulled out, and groups of people stood around him gazing down at the lifeless form, Joe recalls. He immediately instructed his cameraman not to take a close-up, so that his news director and film editor wouldn't have to debate over the ethics of the shot later.
"It illustrates the importance of thinking about the profession, the way we do our work, how we cover stories and even whether we cover stories," Joe says. "Journalistic judgment now is more important than ever."
Contributing through journalism
Pat and Cliff Terry arrived at their journalism careers in different manners, yet their focus on telling the truth and making an impact are closely intertwined.
Cliff's father was a reporter and inspired him to get involved in his high school and college newspapers. Pat wanted to be involved in politics and Spanish before taking a journalism class on a whim. Cliff majored in English, while Pat eventually graduated from the journalism school at Ohio State University.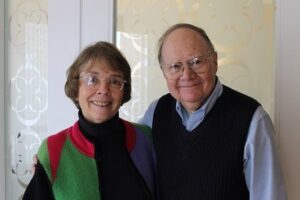 Their paths crossed when they both were working at the Chicago Tribune. Cliff was the Tribune movie critic at the time, writing witty reviews about the latest films to hit theaters. The newspaper originally offered Pat positions covering fashion, society or cooking, which didn't suit her personality or aspirations.
"I wanted to save the world, and I thought if I was a reporter on something like politics, I could make a contribution," Pat says. "But then I realized, we make contributions anyway."
Namely, Cliff was the first person from the Chicago Tribune awarded the Nieman Fellowship, an award given to mid-career journalists by the Nieman Foundation for Journalism at Harvard University. Cliff and Pat also fought together to reverse rules preventing women from winning Nieman fellowships. And every day as a woman in journalism, at the Tribune and other publications, Pat battled sexism that plagued the field at the time.
Over the course of their careers, Pat and Cliff reported and wrote stories that have been both fun and meaningful, both personally and professionally. Pat, for example, completed a major investigative piece about immigrants working in the United States illegally. Meanwhile, Cliff especially remembers interviewing actor Mel Brooks, and how he wouldn't break from his Lone Ranger character. Together, the couple produced an especially memorable freelance piece about their grandson's experience crossing the Mississippi River by train as they traveled to Arizona.
Now, Pat continues to write as a freelance journalist. Cliff, on the other hand, has decided that 50-plus years of writing is enough.
"People ask me if I enjoy writing, and I say that I enjoy having written," Cliff says. "What's done is done."
Making sense of journalism today
Journalism may not have changed tremendously over the course of their careers, but the journalists of The Clare have since noticed a significant shift in the field.
"In our day, we were edited very seriously by people who really knew how to edit," Pat says. "Now, there's an urge to be first when they should be accurate."
News consumers should be even more wary of what they're reading today, too. This is especially true as outlets continue their digital push and just about anyone can publish a story labeled as "news."
"You have to be more careful about what you're reading and how you're absorbing news than you had to be years ago when [social media and fake news] didn't necessarily exist," Lois says. "You either read it in a traditional newspaper or you didn't. I think being discriminating today is difficult where it didn't used to be – whether what you're reading is legitimate or not legitimate, whether you can believe it or not believe it."
In any case, all agree that journalism remains a crucial pillar of democracy.
"The press is more focused than ever on trying to do an honest job and write defensible stories," Joe says. "I admire them. I think it's very exciting that they're doing the investigations that they are and trying to do a better job of covering the country."