A Shift to Virtual Programming at The Clare
Social distancing recommendations have eliminated the possibility of in-person events and activities at senior living communities amid the COVID-19 outbreak. Since social and learning opportunities are a major component of The Clare lifestyle, the community had to get creative with its enrichment offerings for residents, turning to virtual programming as a solution.
That's where Zoom meetings and live streaming came into play.
"Clare residents have responded very well to virtual programming," says Lori Griffin, Director of Resident Experience at The Clare. "They adapted quickly and learned the logistics of Zoom technology."
While the senior care industry is often depicted as lagging in embracing technology for residents, The Clare prides itself on taking initiative when it comes to tech solutions. Given the current circumstances that require residents to stay in their apartments, this focus has been crucial in the adoption of and adaptation to the world of virtual programming.
"Whoever said you can't teach an old dog new tricks has not met the residents of The Clare," resident Sheila Rock says. "At the tender age of 80+, I am 'Zooming' with my brothers and sisters, children and grandchildren, friends near and far. It is not perfect, but this technology is giving us the ability to keep in touch."
Instead of typical group cardio and yoga classes, Fitness Manager Emily Buxton began leading live workouts for residents streamed daily via The Clare's in-house TV channels. Rather than gathering residents for cooking demos, Executive Chef Hagop Hagopian brought them into The Clare's kitchen via Zoom, demonstrating the steps to make simple dishes such as shakshuka. Virtual wine tastings, virtual book clubs and virtual coffee hours have also been added to the calendar for resident interaction and entertainment.
"It is important to stay engaged mentally and socially during this time of uncertainty and mandated social distancing," Lori says. "Engaging in activities and learning that you find interesting gives some sense of normalcy and happiness. Connecting with friends and family via virtual options or other means helps provide security and comfort, as well."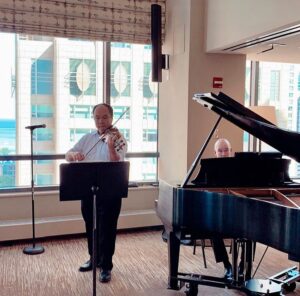 In addition to classes, programs and events routinely put on by employees, The Clare also brings in talent and experts from the likes of the Chicago Symphony Orchestra, the University of Chicago and more. Naturally, outside programs brought to The Clare have been canceled. But Lori recognizes their importance for residents, so she searched for ways to bring Clare favorites to them through the internet.
On Wednesday, April 29, the Chen Quartet, featuring CSO Concertmaster Robert Chen and his family, exclusively performed for Clare residents via Zoom, bringing them live music they have so dearly missed. Earlier in April, the Field Museum partnered with The Clare to present on their collections, and film critic Zbigniew Banas hosted an interactive movie discussion about Jojo Rabbit. Looking ahead, virtual programs throughout the month of May include a presentation on South America, a tutorial on iPhone settings and a salon concert and conversation about women in classical music.
"These days, the recurring theme is, 'I can't believe that two months ago, I didn't know what Zoom was,'" resident Carolyn Rusnak says. "Now, we 'Zoom' through everything. Within the context of the new normal, it's always a good day."
Residents have even started creating their own Zoom meetings to connect with one another socially.
"Zoom is an excellent opportunity to see many Clare friends, at various management meetings or in smaller group gatherings," resident Barb Arsenault says. "I'm in a group that 'Zooms' regularly, and being able to socialize and keep those connections with each other means a lot."
And for residents who aren't as tech savvy, The Clare streams various programs directly to resident televisions via in-house channels.
"This time of virtual programming has reminded me that Clare residents are up for any challenge," Lori says. "It inspires me to continue to try new methods of programming even once we resume our usual operations."