Spectacular Renovations Taking Place at The Clare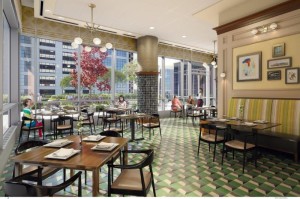 The Clare is excited to announce the launch of impressive renovations to better fit the needs of the increasing number of residents who call The Clare home.  As Chicago's premier Continuing Care Retirement Community, The Clare aims to deliver the most comfortable, quality care and amenities for all residents while maximizing the building's 53 floors. With occupancy rates steadily increasing, The Clare has identified a need to revamp three of its communal areas to better serve residents.
"Our goal has always been to listen to the needs of The Clare's occupants and many of our renovations incorporate suggestions and ideas from the residents themselves," says Kyle Exline, Executive Director of The Clare. "Residents at The Clare are full of life and we want all of our space to reflect their busy, active lifestyles."
The news starts at the very top, where we're completely reimagining the 53rd floor to create a new dining and viewing experience. We are adding a state-of-the-art kitchen, giving Chef Hagopian, The Clare's Executive Chef, a new culinary playground.  Residents will be able to enjoy unique dining experiences several times a week, with a focus on gourmet food and fine wines. This will offer an entirely new, luxurious dining experience complete with panoramic views of the city. The space will also be available for private parties, catered events and viewing parties.
"Maximizing the 53rd floor will be a welcomed overhaul for the residents," says Exline. "Our top floor has always boasted a large event space with spectacular views of the city, but until now has been underused."
With residents constantly coming and going for various activities, the ground floor will be completely renovated for the resident's accessibility with an expanded, grand entrance. The main floor will now house the mailroom and full concierge services, which were previously located on the 17th floor, to provide an extra level of convenience for The Clare's active residents. The new design will reflect the residents' wishes to provide a welcoming atmosphere for themselves and their guests.
The 9th floor's Bistro Café will be expanded from a small self-service area to a larger full-service, casual dining experience. To meet the growing demand for additional dining options, the renovation will increase seating from 15 to 50 for lunch and dinner. There will also be a grab-and-go area for general convenience, as well as pre-made sandwiches, salads and more.  A new outdoor seating area will allow residents to take in the beauty of the 9th floor gardens and Chicago skyline views.
Renovations will occur in stages with projected completion dates of fall 2015 and early 2016. For more information call 312-784-8015, or download our Guide to Senior Living.