Supporting Our Neighbors: Residents of The Clare Commit to Dining Local
The Clare's location in Chicago's famed Gold Coast neighborhood has been a significant benefit for residents since the building opened in 2008.
Inside The Clare, luxurious amenities and high-end apartments provide residents with an unparalleled living experience. Step outside, and they have access to some of Chicago's best shops, restaurants, entertainment, and more, all within walking distance.
Unfortunately, the COVID-19 pandemic has affected far more than the way The Clare operates. It has also had a tremendous impact on neighborhood businesses, which residents have come to love and cherish.
Restaurants, in particular, saw three times the job losses of any other industry just two months into the pandemic, according to Forbes. Now, they must contend with limited dine-in capacities, a struggle especially as Chicago winter approaches and outdoor seating becomes even more sparing.
That's why residents of The Clare find it more important than ever to step up and support their favorite locales.
"When we move to The Clare, we hope to be here for many years," resident Betsy Kennedy says. "And hopefully, if we support our local businesses, they'll still be here as we age."
Betsy's go-to restaurants in the neighborhood are Bistronomic, a contemporary French Bistro; and Mozzarella Store, a Neapolitan pizzeria and café. She currently eats out about once a week, made possible by outdoor patio seating and proper precautions at both locations.
"The service at these places is outstanding," Betsy says. "And I always feel safe and comfortable."
Residents Mark and Sally Schwartz also frequent Bistronomic regularly, so when the lockdown took effect in March and restaurants were forced to suspend in-person dining, they pledged their continuous support of the restaurant.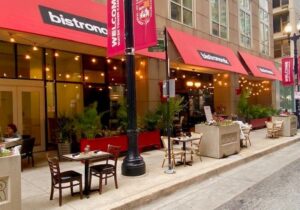 "When they began takeout, we ordered once a week from their yummy three-course family meals," Sally says. "Laurence, the kind wife of Chef Martial Noguier, personally delivered our food to the Front Desk."
Mild Chicago weather has permitted Mark and Sally to walk the couple blocks to dine outside at Bistronomic as restrictions loosened slightly. However things unfold moving forward, the couple will keep incorporating the restaurant into their weekly meal plans.
"We expect to continue to support Bistronomic through this winter, even if we have to go back to takeout," Sally says.
Resident Chris Lyon has begun to venture back into the neighborhood, as well, stopping at RL Chicago after a leisurely walk to sip a glass of wine and read a good book or shopping for her own groceries at Potash Market rather than ordering them for delivery. She also meets friends for dinner at the restaurants on Rush Street, where the road is closed to cars and bikers to expand the dining venues' seating capacities.
"It's almost like being in Europe," Chris says.
For Chris, supporting the shops and restaurants that surround The Clare is her contribution to keeping them in the neighborhood.
"Walking around and seeing how many places are boarded up, I get concerned some of those businesses will never come back," Chris says.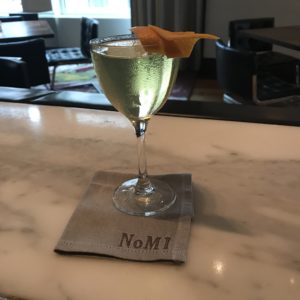 Residents Pat and Cliff Terry feel similarly, which is why they have frequented many local restaurants for dine-in, pickup and delivery. They're very careful when making plans, checking that the restaurants offer seating that is properly spaced out and always wearing masks. So far, they've enjoyed meals at Tempo, Bistronomic, LYFE Kitchen, and the dining options at Sofitel, as well as takeout orders from 3rd Coast Café. They also celebrated their anniversary at NoMI, which they say was very accommodating of current protocols.
As residents have made clear, providing these restaurants with business is as important for The Clare as it is for the restaurants themselves.
"We picked The Clare because of all the things to do in the area," Pat says. "Our support of these businesses is critical, not only for their income but for maintaining the vibrancy of the neighborhood."