The Clare – A Culinary Revolution for Retirement Living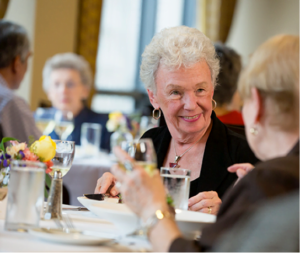 Bland entrees? Mass-produced sides? Add those items to the list of menu choices you'll never find at true luxury retirement communities like The Clare. Focused on bringing unique culinary delights to residents at The Clare, Chef Hagop Hagopian plans out a custom menu each week, which features locally sourced meals every night. Notable highlights from his menus include rack of lamb, tuna amuse bouches, and truffle mousse with port jelly. Chef Hagopian prepares impressive dishes like these for more than 300 people per night, yet manages to serve up only the best in quality.
In 2013, The Clare underwent a complete culinary overhaul to create an elegant dining environment that defines modern retirement communities for service, quality, and atmosphere.  On-site dining options for The Clare include the expansive Grafton room, the more relaxed Parc Terrace Bistro, and the Carriage room, which can be reserved by residents for private events with friends and family. Catering and room service options are also available to residents that wish to eat in their private residences. The Clare's dining services offer a variety of fresh and unique meals with flexible options suited for every resident.
Born in 1974, Chef Hagopian is a first-generation American from a family of Armenian descent. His passion for the culinary arts emerged at a young age, and Hagopian pursued his love of cooking through a culinary arts degree from William Rainey Harper College. Chef Hagopian graduated with a focus in French cuisine and has gained recognition as a Leading Chef by the renowned Les Amis Escoffier Committee and also as a skilled ice carver in Matsumoto, Japan. His ability to capture beauty and perfection in his ice carving translates into his daily practices in the kitchen, where he creates stunning culinary masterpieces.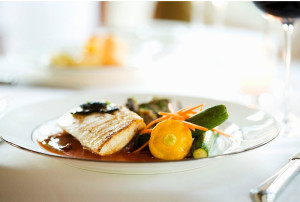 Instead of focusing on finding ingredients for a set menu, Hagopian searches for the freshest local ingredients and then builds his menu around seasonally available produce, meat, and fish. According to Hagopian, the challenge in creating this menu is not just finding the ingredients but purchasing the correct amount of each. "You have to be on point when you order product," he advises. "Not too much where you waste space, and not too little where you run out."
Hagopian is always looking for ways to engage with residents including hosting cooking classes for residents of The Clare. He prefers cooking with light, flavorful ingredients that allow fresh flavors to shine through. Shying away from creams and heavy sauces, Chef Hagopian uses ingredients like quinoa, wheat berries, Swiss chard, and a variety of fresh grains in his recipes. This belief in using the freshest produce makes his meals feel as if they went directly from farm to table.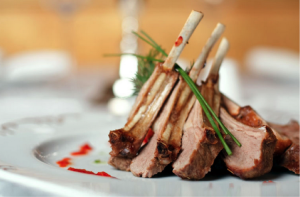 On top of the delicious food options offered at The Clare, Chicago is home to dozens of other incredible dining destinations that are a short walk or ride away for residents. Find the best cuts of meat at Lawry's Prime Rib, or combine food with science and art at internationally acclaimed Alinea. Visit local dining favorites and experience all that the Chicago restaurant scene has to offer.
The Clare has become a renowned five-star destination in just a few short years. Residents fill the dining rooms each night to savor Hagopian's latest creation. Whether attending a course on craft beer making or enjoying a relaxing evening with friends, residents of The Clare in Chicago enjoy access to a unique culinary paradise—one you won't find at other modern retirement communities.