Volunteer Opportunities in Chicago in 2018
Volunteer Opportunities
For many of us, the new year comes with a new set of goals and aspirations: eat healthier, read more books, or volunteer at a nonprofit. While we can't make you stick to a diet, we can help pair you with a local nonprofit (some opportunities even include reading books). You're probably already aware that there are many fantastic nonprofits in Chicago. If you're looking for a new opportunity to serve in Chicago, there are four resources that can help match you to an organization based on days you can serve and areas of interest.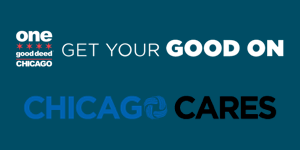 Volunteer Match Chicago is the local branch of a national organization which pairs volunteers with nonprofits in Chicago. Chicago Cares is a area organization that works similarly to Volunteer Match, but also helps match companies into year-long partnerships with Chicago nonprofits. One Good Deed Chicago is a helpful website for finding a list of Chicago nonprofits, but you'll likely need to reach out yourself using the contact info from the website. For suburban Chicago, visit HandsOn Suburban Chicago for volunteer opportunities.
Looking for a quick way to get involved? Below are some of our favorite Chicago-area nonprofits, arranged by category. Or check out the map to find a nonprofit with volunteer opportunities in your Chicago neighborhood.
Educate Others
Join Open Books for their reading buddy program, where you will read with an elementary student twice a week during the school year. If writing is your passion, work with a teenager on reading and creative writing skills.
Not only children need help with reading. Chicago Books to Women in Prisons provides books for women who are in prison. Help provide educational material to women who are incarcerated by picking up donations, answering letters, and mailing materials.
Chicago's Dress for Success provides interview clothing for women who are looking for jobs. Be a person stylist for these women or help them prepare by asking typical interview questions.
Like Open Books, House of the Good Shepherd has a reading program for students. These children are in a special situation – interim housing.
Engage in Arts and Culture
Chicago West Community Music Center teaches underprivileged children how to read music and play instruments.
Encourage People with Health Problems or Disabilities
NAMI Chicago brings awareness about mental illness to high school students around Chicago. If you or a family member has a personal story about overcoming difficulties associated with mental illness, encourage high school students who are going through similar issues.
The Chicago Lighthouse helps people with vision impairment in Chicago by activities like reading news on air and teaching classes. You can help them by volunteering to read aloud, teaching art classes, or teaching preschool.
Give Homeless Pets a Second Chance
Want to volunteer with pets? Paws Chicago works to place homeless pets in lifelong homes. Take pets for walks, greet people at the door, or recruit foster families for animals.
Lakeview Seniors Pet Therapy is a great way to show off your furry (or feathered) friend and spend time with seniors.
Welcome Immigrants
RefugeeOne works with refugees to get settled in Chicago. Help welcome them and provide resources to get them back on their feet.
The Aquinas Literacy Center teaches English as a second language. Work with non-native English speakers for 90 minutes each week to improve English language skills.  
Mentor a Teen
Big Brother, Big Sister Chicago allows you to positively impact the life of a student through a mentorship. A positive role model makes a huge difference in the lives of these students.
Eliminate Hunger
The Greater Chicago Food Depository is the Chicago-area food bank. Opportunities to volunteer include meal prep and delivery.  
Volunteer with Meals on Wheels to bring hot meals to seniors who have trouble providing meals for themselves.
Breakthrough Urban Ministries works in a food desert to bring healthy food options to the community. Work at the pantry or in the men's and women's homes associated with the ministry.
Help the Environment
The Kilbourn Park in Chicago has an organic garden and greenhouse used mainly for education. Volunteers are needed for plenty of gardening tasks as well as educational events.
Help upkeep the beautiful Chicago Parks with nature area restoration projects, like one at Burnham Park. Assist with trail maintenance, planting, and cutting out invasive species.