8 Reasons Independent Living is the Fastest-Growing Retirement Community Option.
Active baby boomers in their 60s and 70s are realizing that independent living in a Chicago retirement community offers a rare opportunity to live their best life now while considering any future healthcare needs that may arise. Luxury independent living provides a positive and rewarding experience in many ways. Read below to discover reasons why independent living might be the right fit for you.
---
Connect and Engage.
Finding a place where socializing comes naturally is one of the main reasons why seniors move to a community setting. At The Clare, social connections abound.  Social opportunities unfold daily through planned events, resident-organized clubs and day-to-day community life. Additionally, The Clare's Gold Coast location makes it easy to attend Chicago's many summer festivals with friends and neighbors.
Be wined and dined daily.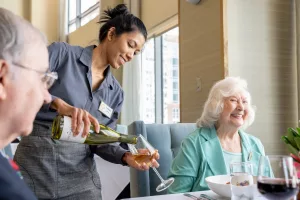 Forget the grocery shopping, prep and clean up that comes with cooking in your own kitchen. A diverse selection of culinary options, from fine dining to casual fare, is one of the many rewards of luxury independent living. At The Clare, dining is as much a social event as it is a culinary experience.
Bring along your furry friends.
At The Clare, we understand that your beloved pet is more or less a member of your family. We are familiar with the many benefits pets can provide, which is why The Clare is a pet-friendly independent living community. We encourage you to bring your pet with you when you move here.
No scrubbing, no dusting, no kidding.
Time is a luxury. Life becomes a luxury when you have housekeeping services. When someone else does the cleaning you can spend time doing the things you love: seeing friends, spending time with your loved ones or exploring a new hobby. At The Clare Independent living community, every housekeeper is thoroughly vetted to provide excellent and thorough weekly cleanings. They are reliable, trustworthy and friendly.
Delight in zero-maintenance living.
Imagine no more mowing, shoveling or home repairs. The thought of never having to worry about the time and expense of home upkeep is one of the attractive benefits of independent senior living. Add on-demand maintenance assistance to beautifully appointed customizable apartments featuring full kitchens and stunning views, and luxury independent senior living at The Clare becomes extra appealing.
Feel free to host a reception.
Many who have chosen to downsize to an independent living community realize that their life extends far beyond the comfort of their apartment home. At The Clare, feel free to host a gathering in one of our beautifully appointed private spaces or, if you prefer, an entire catered dinner can be brought to your apartment. And our on-site guest suites make overnight guest visits truly pleasurable and convenient.
Indulge in five-star service.
In today's world, top-notch, reliable service is at a premium. At The Clare, gold-standard hospitality is a given. Every team member is truly dedicated to uncompromised resident satisfaction. Need a light bulb changed? No problem. Want to book an appointment at The Clare's massage suite? Just call the concierge. Plus every member of the on-site security team is an Illinois-certified Emergency Medical Technician (EMT).
Enjoy peace of mind.
LifeCare communities are designed to address unexpected healthcare needs, protect your estate, offer possible tax advantages and ease financial concerns over the rising costs that come with long-term healthcare. Only a LifeCare community such as The Clare offers the security of knowing you are not leaving any future decisions up to anyone else — or up to chance.
---
Start planning your tomorrows, today.
Whether you are retired or still working, independent senior living at The Clare is designed to give you the freedom to live life your way and to leave the rest to us. Google "Luxury independent senior living communities near me" and discover why The Clare tops Chicago's list.