9 Ways to Keep Your Mind and Body Active
Keeping physically fit is generally front of mind as it relates to maintaining your health however your mind is just as important in overall wellness, especially as we age. Physical activity helps keep the body in good condition and likewise, mental activity helps keep the brain and mind working optimally. Explore the benefits of physical and mental wellness and ways to help keep your mind and body active.
Fun and Games.
Games are an excellent way to stimulate different areas of cognition. They are fun, accessible and work to keep your mind sharp. At The Clare, groups of residents meet on a weekly basis to play games such as Scrabble, Bridge, Mahjong, Canasta, Bingo and more. All these games stimulate 'procedural' memory and those who are long-time players can carry over skills and insight from their years of experience. For those newer to a game, they are able to utilize 'working' memory, which aids in learning a new skill or task and stimulates your short-term memory and recall. All games, especially when they involve a social component, exercise attentiveness as well. Whether you are experienced or a beginner, playing games is a healthy way to keep your mind engaged and active!
Out and About.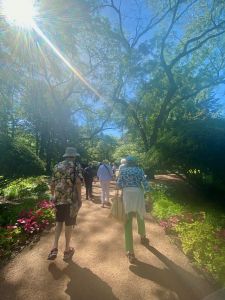 Science shows that spending time outdoors can improve your mental health and well-being. Strolling at the beach, a park or even a walk around your neighborhood helps both your body and your brain. At The Clare, there are ample ways to get out and explore all that Chicago has to offer. Whether it is through a group walk in one of Chicago's historic neighborhoods or heading out to The Chicago Botanic Gardens or The Morton Arboretum in Lisle, The Clare ensures a portion of the group events offered every month have a fitness component. During the summer months, many residents enjoy soaking up the beautiful Chicago weather with walks to the local farmer's market or to Lake-Shore Park to get a workout in. Being outdoors improves attention and focus, increases the likelihood of maintaining proper weight and increases energy.
There are many opportunities to enjoy the outdoors as a resident of The Clare.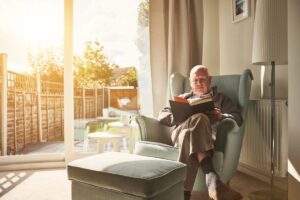 3. Need to read. A growing body of research indicates that reading literally changes your mind. Using MRI scans, researchers have confirmed that reading involves a complex network of circuits and signals in the brain. The more you read, the more those networks get stronger. A good book can reduce stress and keep you focused. Located just a five-minute stroll from The Clare is the Water Works Library and Chicago's main library, the Harold Washington Library is a short ride away. If you favor the humanities, The Newberry, located in The Clare's neighborhood, is a history lover's delight. The Clare also has many resident-formed book clubs that meet on a monthly basis. These groups discuss everything from current literature to mystery novels to short stories — there is something for everyone who enjoys a good book!
Fit for life.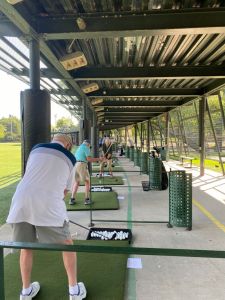 When we think about the benefits of exercise, we usually think of more energy, a healthy weight, stronger muscles and a healthier heart. While those benefits are true, exercise also positively impacts the brain. Exercise reduces stress and anxiety, improves focus and concentration, promotes the growth of new brain cells and protects the brain from aging. The Fitness Team at The Clare is always encouraging residents to factor in mental health when learning about ways to improve their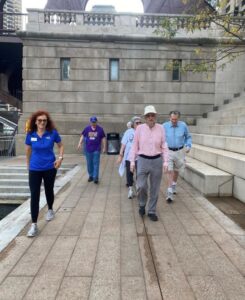 physical health. One of the most popular fitness offerings at The Clare is the implementation of 'Workshop Wednesdays'. Each month, this 45-minute weekly workshop focuses on a theme such as 'back and posture' or 'cognition and movement.' These themes are pulled from the data collected when residents complete their bi-annual Senior Fitness Evaluations. Aside from group fitness classes, residents enjoy a state-of-the-art fitness center, pool & spa and the ability to participate in personal training sessions. Living at The Clare makes staying fit convenient.
Write on!
Creative writing and writing by hand is a powerful tool for learning, relaxation and creativity. Hand movements used in handwriting activate large regions of the brain responsible for thinking, language and working memory. The Clare offers many ways for residents to express themselves via writing with facilitator-led Memoir Classes and events like calligraphy workshops in our Art Studio. Additionally, The Clare residents produce a monthly publication titled "The Clarion" that is entirely resident ran and crafted.
Sweet dreams.
Sleep allows your body and mind to recharge and refresh. A healthy diet and positive lifestyle habits should help you meet the recommended seven-to-nine-hour nightly sleep requirement for optimal health. Included in a monthly Fitness & Wellness tracker that is available for Clare residents, you will find a section on sleep with tips to encourage healthy habits to practice during the day to ensure optimal sleep at night. Here are some helpful tips for a good night rest:
Go to bed and wake up at the same time every day
Avoid distractions such as cell phones and TVs in your bedroom
Exercise at the same time daily, but not within three hours of your bedtime
Do not take long naps in the late afternoon or evening
Avoid large meals, caffeine and alcohol late in the day
Sound advice.
Research shows that music supports our physical, mental and emotional health. Exercise is easier when listening to music because, fast-paced, upbeat music increases your heart rate and gives you a burst of energy. Hearing your favorite songs releases dopamine in the brain that helps prevent stress and improves mood. Most important, music connects us to others — at concerts, places of worship and celebrations. At The Clare, there is no shortage of musical performances by top-tier local musicians or trips to the Chicago Symphony Orchestra, Lyric Opera and local music venues.
Life enrichment.
Having hobbies we enjoy brings enrichment to our lives. Hobbies can relieve
stress, connect you to others, help you develop new skills and knowledge, and give you a fresh perspective on life. The best way to find an inspiring hobby is to try something new like Pickleball in Chicago. At The Clare, each new month brings a calendar filled with events, programs and outings that allow residents to choose what appeals to them or immerse themselves in something new. Whether you are trying your hand at a collage and mixed media workshop in the Art Studio, attending a history lecture or stepping out of your comfort zone to join a new discussion group, there is something for everyone at The Clare.
Meaningful connections.
Human interaction is very important for maintaining mental, emotional and physical health. Socializing brings together like minds through shared interests and nurtures connections with friends new and old. At The Clare, residents engage and connect in meaningful ways throughout each day. From dining to happy hours, attending classes to lectures; even picking up the mail is an opportunity for connection. The variety of social opportunities enables our residents to remain emotionally and physically vibrant.
Start your active mind and body journey.    
Whether you are retired or still working, independent senior living and assisted living in Chicago at The Clare offers so many avenues to keep your mind and body active, and your spirit uplifted. You may be surprised that The Clare provides the lifestyle you have been looking for.