Susie Kealy: When a Dream Becomes Art
One night a few years back, as Clare resident Susie Kealy slept, she dreamt about her cat.
It was an unusual dream. Susie's cat has a line along the length of her belly, and she enjoys rolling over, exposing this feature. In the dream, the cat instead had a zipper down her stomach, with the ability to remove her fur.
When Susie awoke, she had the idea for her first children's book.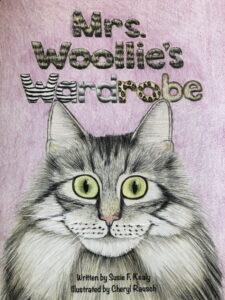 In the story, entitled Mrs. Woolie's Wardrobe, the cat can remove her coat to try on the fur of other animals. On one page, she is a zebra, but realizes living in Africa is too hot. On another, she is a chinchilla, but dislikes so many people pawing at her. In the end, the cat decides that she prefers her own fur exactly as it is.
Once she had her ideas down on paper, Susie enlisted the help of an illustrator, a woman named Cheryl Rausch who she had met at a luncheon at the Art Institute of Chicago a few years back.
"If I were trying to find a needle in a haystack to find the perfect illustrator for my book, in the kind of style that I imagined, she was the one," Susie says.
The book is still unpublished, and Susie and Cheryl continue to search for a means of getting it printed. Even so, the concept and process are artistic endeavors consistent with Susie's lifelong knack for creativity.
"I've always been interested in art," she says. "It just came to me as something that was very easy. I have it in my blood."
A Career in Art
Susie's art career began when she studied at Parsons School of Design and the New York School of Interior Design. However, she initially worked in the retail industry, at stores like Lord & Taylor and Tiffany's.
It wasn't until she relocated to Chicago and was living in Streeterville in the 80s that she dabbled in interior design. Rather than becoming a proper interior designer, though, Susie created her own business that involved producing architectural renderings of interiors or buildings using watercolor for homeowners, realtors, private clients, businesses and more. They then took these images to use for event invitations, programs and greeting cards.
"Having an interest in architecture, I find great satisfaction in combining this interest with my art," she says in an Artist's Statement. "In the activity of painting, I am free to create what I desire without the time-consuming effort of piecing together the actual living space."
As time went on, Susie continued to hone her craft, narrowing her focus from entire rooms or buildings to specific details, like the roof of a house or a corner of a rug. With watercolor, Susie was self-taught, but she took classes at the Palette & Chisel Art Academy and tried her hand at still life paintings. She has even copied the work of the Old Masters, or those who painted before the 18th century, through a course at the Art Institute of Chicago.
Her commitment to creativity resulted in her participation in a number of exhibitions,
"I like very realistic, detailed paintings," she says. "I don't want to have to explain my art."
New Inspiration
After completing so many works over the years, Susie had a significant collection of her own large paintings. Bringing them with when she transitioned to her senior lifestyle at The Clare didn't make spacial sense. So she gave most of them away, and it left her feeling disheartened.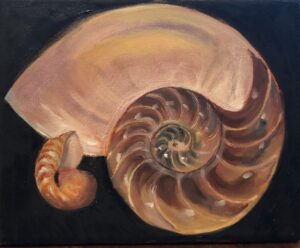 But fellow residents at The Clare encouraged her to keep at it. They suggested that she create smaller paintings, and she leaned into the senior lifestyle at The Clare. Susie now intends to use The Studio at The Clare to do acrylics, and she also submitted a piece for the Spring Art Exhibition, which features resident works in a variety of formats.
Writing a children's book, too, has been a way to stay involved in art. No matter the medium, art simply brings joy to Susie's life.