From Dine-In to Delivery: A Change in Dining Operations at The Clare
In the midst of the COVID-19 outbreak, The Clare has incorporated countless operational changes throughout the community to promote safety and reduce the spread of the virus. However, no change has been as drastic as that which took place within dining operations at The Clare.
Bars and restaurants in Illinois have now been closed to dine-in customers for over two months. The dining venues at The Clare are no different. Given how quickly the situation unfolded and closures occurred, The Clare dining team pivoted seemingly overnight to all-delivery service in order to keep residents fed and happy.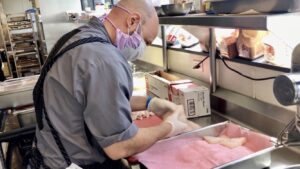 This required major shifts to inventories, scheduling and more with little to no preparation or training for employees.
"From ordering to producing, from packaging to delivering, we had to drastically change our operations," says Francesco Tardio, Director of Dining Services at The Clare. "Getting the whole team involved and communicating the changes was crucial."
With the main dining room no longer in use, it quickly became a storage space for extra supplies, specifically to-go containers. Another area converted into a delivery assembly line, keeping production in the kitchen as normal as possible. The Hostess Stand became a call/customer service center where employees took orders and answered questions. The bar closed, too, which prompted Clare Bartender Jackie Milano to take her services on wheels. Every night, she delivers glasses of wine and specialty drinks to residents at their doors.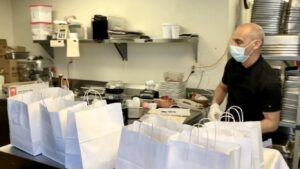 On average, The Clare now completes between 350 and 370 meal deliveries on a daily basis. Breakfast and dinner tend to be the busiest, averaging about 150 deliveries each.
"The fact that the kitchen produces meals three times daily and delivers each and every order to those living at The Clare is nothing short of phenomenal," Clare resident Marilyn Day says.
Through these changes and more, the goal has always been to maintain The Clare standard on each day's menu. Options have included filet mignon, rack of lamb, duck breast, Ora King salmon, and swordfish, among others.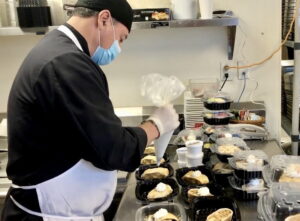 "Offering the same quality menus that we had in our dining rooms has been a priority for us, as it allows for some normalcy in our residents' lives during such trying times," Francesco says. "It is also uplifting for our team to know that we are not compromising our service standards because of the challenges we encounter. We are The Clare, and pushing limits is what we do."
Since holidays at The Clare are always culinary events, it is important to maintain celebratory food offerings, as well.
"I am especially grateful for the unexpected preparation of special meals for holiday celebrations," Clare resident Renee Zellner says. "Without being asked, the Dining Services team surprised us with traditional foods for Passover and Easter, among other holidays."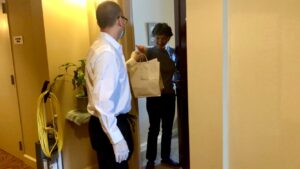 Of course, Clare residents have had to adapt to a new normal, as well. Dining operations at The Clare always emphasize socialization as much as culinary creativity. Residents enjoy the freedom of exploring Chicago's dining scene, too. Relying so heavily on in-house delivery is certainly an adjustment. However, it's one that residents understand is necessary, and they are undoubtedly appreciative.
"We have experienced an outpouring of gratitude and an incredible display of patience from residents as we work through these changes," Francesco says. "Their feedback is what keeps us motivated to continue to do more and do better."
Overall, there's no question that the current restrictions presented unique challenges to The Clare dining program. Everyone is undoubtedly looking forward to some sense of normalcy in the coming months. But all those involved have demonstrated resilience and high spirits every step of the way.
"The culture of being open to change and looking for ways to always improve existed before this situation, and it has served us well." Francesco says. "If anything, the lesson we will hold onto is to be grateful for the resources we have and our team's commitment to keep going no matter the challenges."