A Day in the Life of a Clare Cook Brian Beech
Clare cook Brian Beech, a Lead Cook, has worked in multiple delis and restaurants over the years. His time in Chicago dining services at the community, however, has been the most rewarding. He shares his passion for cooking and the knowledge and creativity garnered from his experience at The Clare.
A Passion for Cooking
From the calming and relaxed energy in The Bistro to the fast-paced environment when walking into the kitchen, it's clear that a lot goes on behind the scenes to please residents and their guests during mealtimes at The Clare.
On a Tuesday afternoon, Brian worked diligently preparing meals for Bistro customers. From fielding incoming orders and to putting various dishes together, Brian remained calm as he juggled all these tasks, and the depth of his experience and passion was obvious.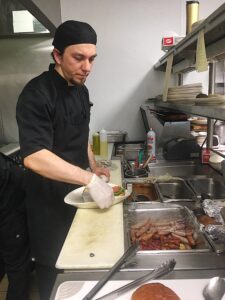 As with every passion, there's a backstory detailing how it turned into a career. This is no different for Brian.
"I wanted to get into cooking ever since my mom told me that I cook better than her," he says. "That just snowballed into going to culinary school in Michigan and working up from there. I have been cooking for 16 years."
After finishing school, Brian decided to move to Chicago, where he initially started in Chicago dining services at The Clare as a temporary employee. He didn't know much about the community going into the job. Now, he enjoys the friendly atmosphere and how laid back the kitchen feels.
The Clare boasts four distinct dining venues, each with their own menus and etiquette. The Bistro serves as a more relaxed environment for Chicago casual dining, while The Grafton mirrors Chicago fine dining. Meanwhile, The Lounge offers a bar-like atmosphere, and The Abbey accommodates gourmet dinners and special occasions.
No matter where Brian and the other cooks are, though, they're prepared to handle resident requests and exceed their expectations.
"The cooks at The Clare are like a well-oiled machine," he says. "We can cook anywhere in the building and provide spectacular food."
Creativity in The Clare Kitchens
Since he began working at The Clare, Brian has worked his way up to become a Lead Cook. His responsibilities now include checking that other chefs are filling out their time and temperature logs, ensuring that food items are dated and labeled and assisting stewards on Sundays. Two of his primary tasks (and favorite parts about working at The Clare) are assisting leadership and working with the daily and weekly menus.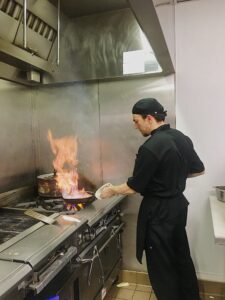 "We have a lot of freedom with what we get to make, because the menus change every week and we have specials every day," he says. "We think a lot about what we can use to try and use up. When leadership is busy with other responsibilities, I have the opportunity to research interesting dishes and suggest them for the menu."
Through creating new menus and specials, Brian connects with residents and learns about their different tastes and experiences with cuisine.
"They have high standards for food," he says. "The residents here have traveled and seen so much that there are certain things they expect as far as cuisine goes. What they want to eat is so refined. I enjoy being able to provide that and learn different dishes."
Brian adds that it is important to switch up the menu and specials.
"A regular restaurant would have the same menu for a couple of months, but the residents who live here don't necessarily want to eat the same things every day," Brian says. "My job is fast-paced because we come up with new menus and specials every day; but I like being able to think of different food options."
Residents also know Brian as the "omelet guy."
"When we would have Sunday brunch, I was always out there making custom omelets for everyone," he says. "I miss that. I now connect with residents more recently through individual catering orders."
Skills and Hidden Talents
Working closely with Executive Chef Hagop Hagopian, Brian has also learned new skills including proper sautéing and caramelizing with beer, pan sauces, basting, and a technique called sous vide.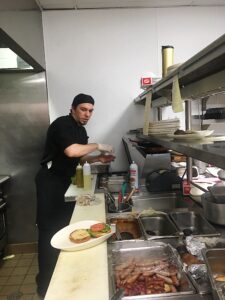 "Sous vide means putting protein in a vacuum-packed bag with flavorings, seasonings and herbs, and then placing it into a hot water bath at a certain temperature for a set amount of time," Brian explains. "For example, you can put in a strip loin steak with peppercorns, olive oil and rosemary for an hour, and cool it down. Later, when you're ready to serve, it's already rare. All you have to do is sear both sides, caramelize and baste it, and you have that perfect doneness of the steak. You have even color throughout."
Brian's favorite food to cook, however, is gumbo for his wife and her family, as they're from Louisiana.
Aside from his love for cooking, Brian is also the DJ for holiday parties for Clare staff.  Brian revealed other secret talents, as well, such as working with analogue videos and glitch art.
"I use old video devices from the 80s and 90s, opening them up and messing around with the circuits to bend the picture," he says. "Sometimes I show them at conventions and dances by creating video displays to whatever music the DJ is playing."
All in all, Brian is happy with where he is at in his career at The Clare. Working at the community has afforded Brian a variety of new experiences in Chicago dining services in a unique location.
"There is no other culinary scene like Chicago," he says.