The Clare Residents Compete in Chicago Dragon Boat Race
Surrounded by elite groups, fire departments and corporate crews, onlookers might not have suspected that residents of The Clare, a luxury senior living community in Chicago's Gold Coast, were about to race along the south branch of the Chicago River.
And yet, The Clare was one of 32 teams competing in the 18th Annual Chicago Dragon Boat Race for Literacy on June 23 at Ping Tom Memorial Park in Chinatown – and the oldest team, at that.
"It is inspirational to watch our residents take on the challenge of the races," says Leah Okner, Fitness Manager at The Clare. "The average age of our boat was approximately 40 years older than the other teams."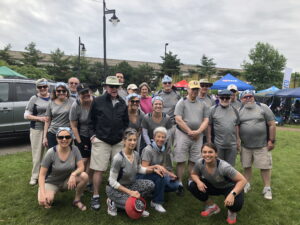 But age didn't prevent The Clare Crewsaders from giving their all.
"Residents enjoy competing in the Dragon Boat Races because they have the mindset of, 'Why not us?' says Lori Griffin, Director of Life Enrichment at The Clare. "They are not held back by the perceived boundaries of aging."
Six weeks prior to the race, Leah began training with the residents. Half of the practice focused on balance training, as entering and exiting the boat can be a challenge. Its curved bottom and thin beams make it difficult for rowers to take their seat.
"Just getting in and out of the Dragon Boat was a feat in itself," says Clare resident Sheila Rock.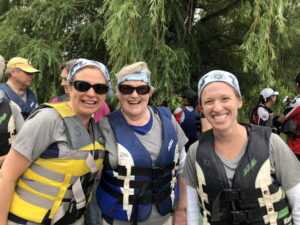 Each team consists of 20 members: 18 paddlers, one drummer and one flag catcher. The paddlers row to the beat of the drummer. Meanwhile, the flag catcher pulls a flag positioned in the water at the finish line. This is why Leah geared the other half of The Clare's practice sessions toward strength training and timing.
On race day, The Clare Crewsaders first competed in a time trial race, registering a time of 2:02. In the team's second race, their boat crossed the finish line in 1:53, beating their previous time by 9 seconds.
"Going into the Chicago Dragon Boat Race, safety and fun were our top two goals – and we certainly accomplished those," Lori says. "Being in the Dragon Boat Race as a team of older adults challenges people's perception on aging. And while we may not have been the fastest team, the day was a huge success!"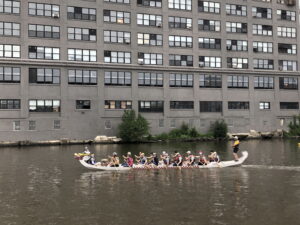 Support and encouragement from family, friends and fellow residents only added to the Chicago Dragon Boat Race experience.
"The Dragon Boat Race was another super activity that The Clare sponsors to keep us socially engaged, physically fit and active," says Clare resident Anne van Amerongen. "Although The Clare did not bring home a medal, many laughs were had by all, and each one of the paddlers exerted their maximum effort."