Chicago Luxury Apartment Living at The Clare
Luxury apartment living at The Clare is about the incredible people and amenities that make up the community. The one-, two- and three-bedroom apartments feature sweeping lake and city views. Residents enjoy art history lectures and speakers who bring the Lyric Opera to life before and after you enjoy performances. Looking forward to the world premiere of Bel Canto? Imagine how much more you'll enjoy the show after talking with the actors, singers and backstage staff bringing the production to life.
But residents choose The Clare for more than what's inside the walls. Choosing to live here is all about embracing the best luxury living that downtown Chicago has to offer.
Chicago luxury apartments in the downtown area offer access to an incredible range of cultural offerings. From beautiful views to Michelin-rated restaurants, there are amazing opportunities just steps from your front door at The Clare. Here are just a few things that make Chicago luxury apartment living special in the city's Gold Coast neighborhood.
An amazing art and museum scene
Just a few blocks from The Clare is The Newberry, an independent research library founded in 1887. The Newberry is home to an incredible collection of documents across a wide range of topics. Some areas of special emphasis are American History and Culture and medieval, renaissance and early modern studies.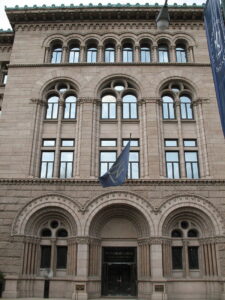 If your interests are closer to home, be sure to check the library's extensive materials focusing on the history of Chicago and the Midwest. The museum and library has a bibliography of neighborhood histories and extensive church and synagogue records. The Newberry's resources are also very helpful to genealogists or those interested in local history.
Just steps from our front door is the Loyola University Museum of Art. The museum has two distinct parts. One is the Martin D'Arcy, S. J. Collection, which comprises religious European art from the Middle Ages, Renaissance and Baroque eras, with a particular focus on three-dimensional objects. A second collection focuses on understanding the enduring spiritual questions that all faiths and cultures have asked and expressed through art. Idols from the Neolithic era sit alongside Greek sculpture, Islamic stained glass windows and more.
Admission to the Loyola museum is free on Tuesdays, and just $6 for senior citizens on other days.
We're also a short walk from The Museum of Contemporary Art, which features paintings, sculptures and other work completed after World War II. The museum focuses heavily on rotating exhibitions, with a half-dozen shows running at any given time. That means there's always something new for you to enjoy when you drop by.
If your grandchildren are coming for a visit, they are sure to enjoy the Chicago Children's Museum, at the Navy Pier. And of course there's always something new to see at the city's iconic halls of culture: The Field Museum, Shedd Aquarium and Adler Planetarium.
World-class theater
The Gold Coast offers amazing access to the vibrant theater scene in downtown Chicago. Step two blocks east of The Clare to enjoy a show at the Looking glass Theatre Company, which this winter is bringing Robert Louis Stevenson's classic Treasure Island to life in a world premiere of a new adaptation. Other shows in the current season include Blood Wedding an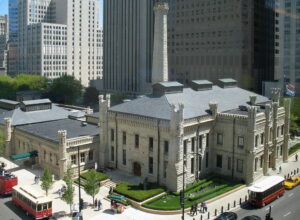 d Thaddeus and Slocum: A Vaudeville Adventure.
The Chicago Shakespeare Theater—located on Navy Pier—is bringing legendary British director Jonathan Munby to town this winter and spring to lead the production of Othello. Munby arrives fresh from Shakespeare's Globe and the Royal Shakespeare Company in London.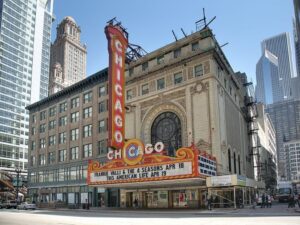 There's more than the Bard to enjoy at this theater. Check out The Heir Apparent—a new comedy from David Ives staged by Tony Award winner John Rando—in December and January. Or see A Q Brothers' Christmas Carol, a fresh, hip-hop twist on Dickens' classic. If you've been hearing about "Hamilton's tour de force on Broadway," you might want to see what the fuss is about with this Christmas show.
And we're also close to The Chicago Theatre, which has been hosting the world's biggest and best artists for more than 90 years. The biggest names in music play here, and you're perfectly positioned to catch them in concert.
Delectable dining
Listing even a quarter of Chicago's amazing restaurants would take far more space than we have. But to give you an idea of the amazing options surrounding The Clare, here are some nearby restaurants and places that have won a coveted Michelin star (and two or three stars, in some cases) in recent years.
Sixteen: The autumn prix fixe menu features delicacies such as lightly cured sea trout and roe or a ribeye of American Wagyu beef.
Naha: Chefs Carrie and Michael Nahabedian (the pair are cousins) mix American and Mediterranean influences that draw on the chefs' Armenian and Greek heritage. Fresh, seasonal ingredients come to the fore. A recent dish that caught our eye was the farm plate of roast quail, pork belly and "coddled" duck egg with hen of the woods mushrooms.
Tru: Avant garde food comes to the forefront at Tru, which focuses on unusual or unique preparation techniques.
Topolobampo: The high-end offering from nationally-acclaimed chef Rick Bayless organizes its dishes into eight categories, such as "vibrant," "soulful" and "bold." The "Perfect 7" tasting menu will have you salivating.
Whether you're most interested in dining, theater or the visual arts, you'll be surrounded by luxury apartment living at The Clare. Learn more about our community—and what you should look for as you plan the next steps in life—by downloading our free guide today.