A Day in the Life of The Clare Security
Security is common in many high-rise Chicago residences. At The Clare, however, security services look quite different, and they're crucial to the building's operations. From conducting wellness checks and handling EMS calls to monitoring security cameras and assisting the residents with various needs, the community's security personnel juggle many important tasks to ensure resident safety.
Kathrin Bender, a member of the security team at The Clare, has 30 years of EMS experience, three of which have been at The Clare. Here, she shares how working at The Clare helps fulfill her purpose of helping others and why security services benefit the community.
A Passion for Helping Others
On any given day, Kathrin comes to work ready and willing to jump in where needed and help Clare residents however possible. Whatever task or situation she faces, from assisting with lockouts to emergency calls, she handles them with patience and professionalism. This doesn't come as a surprise given her previous experiences.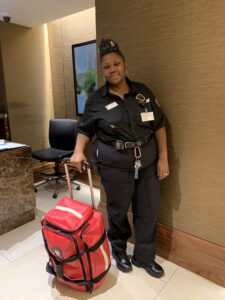 After working as a paramedic for the Chicago Fire Department for 30 years, Kathrin decided it was time to pursue other opportunities. That's when she joined the Security team at The Clare in February 2017. In this role, she continues to fulfill her purpose of assisting others, all while interacting with residents daily.
"The residents appreciate us," Kathrin says. "They'll thank us for being there and helping out."
Which is clear to see. As soon as the residents see Kathrin with her red emergency kit, stocked with bandages, a glucose monitor, medication, a first-aid kit, and much more, they know they're in capable hands.
Beyond expressions of gratitude and appreciation, interacting with the residents is important for all parties involved, she says. Not only do they result in friendly conversations, but she also uses these moments to assess resident well-being.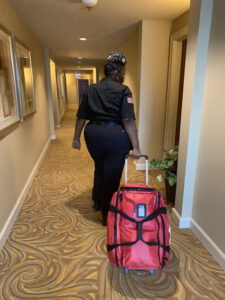 "We are the eyes and ears for the Wellness Center," Kathrin says. "Since we interact with and assist the independent residents all of the time, we begin to notice any changes in their health."
If any concerns arise, Kathrin and her team will notify The Clare's onsite Wellness Center. This fact comforts residents, as they know they always have someone looking out for them.
"A simple holding of the hands, an assuring gesture or giving urgent care to those in need by our familiar faces is an asset," Kathrin says.
Importance of Security at The Clare
For Clare Security personnel, communication is key. They carry pagers at all times, where they receive emergency notifications from residents, as well as call location information.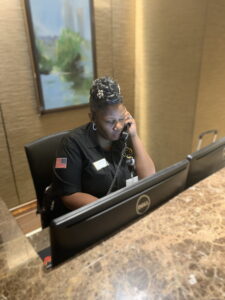 This means residents can instantly access assistance via emergency pull cords or pendants to alert Security.
"We offer immediate first-hand care before paramedics arrive to assist," Kathrin says. "Time matters, and we are the first line of defense for that."
Overall, The Clare's Security Department is responsible for the safety and well-being of everyone in the building. Days typically include conducting daily wellness checks, checking safety points implemented throughout the Clare and simply helping wherever needed.
Security staff is on site 24 hours a day, seven days a week. And residents certainly appreciate such dependability, says Mark McCarville, Security Manager at The Clare.
"We hear repeatedly that our residents feel safe with the idea that there is medical care and security responses available on the premises at all times," he says.
Interested in The Clare Chicago jobs? Check out our Careers page to learn more about employment opportunities.