A Day in the Life of a Clare Housekeeper
What do housekeeping services look like at The Clare? Bernardo Brito's passion shines through as he explains his tasks as an environmental service technician and shares his love for The Clare community.
Thirty years ago, Bernardo moved to Chicago from Mexico. He previously worked in housekeeping at a nearby Chicago hotel before he came across The Clare. On impulse, he decided to walk in and ask for an application.
Now, Bernardo is an Environmental Services Tech III and an admired employee who has been with The Clare for almost 7 years. Spending a day at the community with Bernardo, his impact on The Clare community is clear.
Environmental services at The Clare include tending to residents' units and cleaning public spaces around the building, which mostly consist of common areas: restrooms, dining rooms, lounges, hallways, and meeting rooms.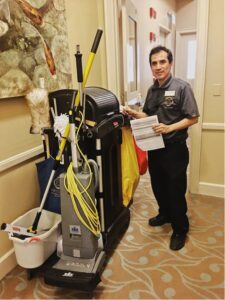 Resident units tend to be Bernardo's forte. He specializes in thorough carpet and floor cleanings when there are stains or spills, fixing vacuums when they break and scrubbing ovens and microwaves.
"If The Clare did not provide weekly housekeeping services, I would have had to track down my own – it's definitely a perk!" says Clare resident Chris Lyon. "I don't have to buy and store cleaning supplies or set aside valuable hours every week to do chores that are certainly necessary but low on my 'want to do' list. This amenity is just one of the many reasons that living at the Clare is such an enjoyable experience."
Bernardo also works with and trains new employees. This is especially rewarding for him, as he gets to pass along his knowledge and share his own experiences at The Clare.
"Teamwork is very important," he says. "My teammates are like family."
One of Bernardo's favorite times of the year is the annual "deep clean." This involves dusting the blinds, wiping down windows, shampooing the carpet, scrubbing the floors and cleaning the resident's apartments. It can take up to eight hours.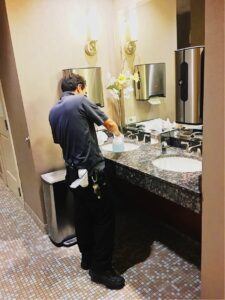 "Bernardo is my deep cleaning lead," says Emmanuelle Schott, Director of Environmental Services. "He is a top performer, and he always exceeds expectations. Plus, he is adored by residents."
Bernardo adores the residents right back. While cleaning itself is satisfying, he says the most rewarding part of working at The Clare is the residents. He always goes above and beyond for them.
"If there is a stain on a resident's carpet, I clean not only the stain, but the rest of the carpet for them, and they are so impressed with how clean it is," said Bernardo. "They are like family, and they're always so grateful for my work. I love making residents happy because they are my priority."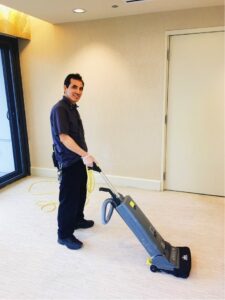 For residents, this commitment means much more than receiving excellent housekeeping services. In many ways, they view Bernardo as family.
"Bernardo always provides extra services if he notices a need, and he always asks me if there's anything else he needs to clean, whether or not it is on his agenda," says Clare resident Shirley Mullin. "He gives the sense of being a solid member of my extended family."
Bernardo loves interacting with residents, too, and recognition for all that he does for the community.
"He is such a hard worker and dedicated," Emmanuelle says. "When he does something, he loves it. He is very sincere, very genuine and very humble."
Overall, Bernardo can't imagine working or providing housekeeping services anywhere else.
"When I was younger, I always wanted a job where I could help people and impact their lives," he says. "My job at The Clare is my dream job, because I get to help the residents every day."