Looking for the perfect vacation getaway on Lake Michigan? Within seven hours of Chicago you'll find family-friendly beachfront rooms, romantic suites with fireplaces, and outdoor adventures—sometimes all at the same resort.
Our favorite resorts offer a range of room sizes, complimentary breakfast, beach views, and indoor pools for winter trips. Some resort picks include perks like bikes for traveling around town, beach chairs, and even gas grills for cooking your fresh-caught fish.   
Learn more about our favorite resorts on Lake Michigan and book your travel today!
New Buffalo, Michigan: 1.5 Hours from Chicago
Beach Resort, Complimentary Breakfast , Beach Gear, Family-Friendly, Bicycles  
A short drive from Chicago, the Marina Grand Resort offers each guest a patio or deck overlooking the New Buffalo Harbor. Choose from one, two, or three bedroom suites for every family size. Forgot to pack your beach towels? No problem, the Marina Grand Resort provides guests with beach towels, chairs, bicycles to get around town, and complimentary breakfast in bed. During your stay, enjoy drinks on the rooftop deck or lounge by the indoor or outdoor pools.
From $149
Beach Resort, Complimentary Breakfast , Beach Gear, Bicycles
Located just a few steps away from the Marina Grand Resort is its sister resort: The Harbor Grand. Choose from one or two room suites with amenities like fireplaces, whirlpool tubs, king-sized beds, and spa showers. Similarly, it offers beach towels, chairs, bicycles, and complimentary breakfast in bed. If it's too cold for the beach, swim in the indoor pool, lay out on the sundeck, or relax in the jacuzzi.
From $149
Saugatuck, Michigan: 2 hours 15 minutes from Chicago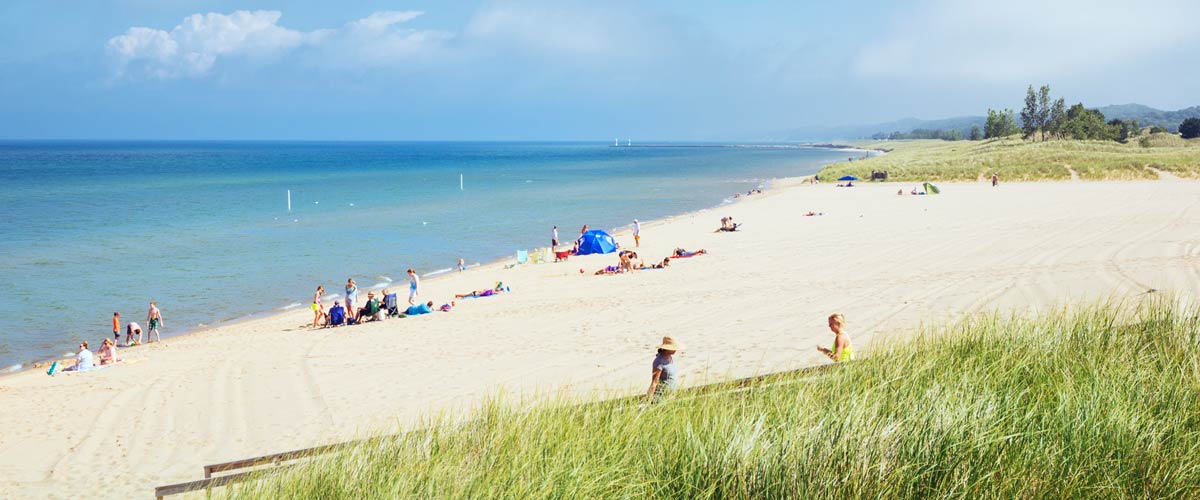 Beach Resort, Complimentary Breakfast, Kayaking, Ages 13+, Bicycles
A slightly longer journey from Chicago is the Lake Shore Resort. There is no shortage of peaceful views and activities on the resort's private beach. With access to a full inventory of bicycles, kayaks, beach chairs, and even umbrellas, you'll satisfy even the most adventurous family member (though this resort is ages 13 and up). Each morning, enjoy a complimentary breakfast, including local baked goods, fruits, juice, and coffee. Relax by the pool or lake, visit nearby Saugatuck, and return to the fire pits in time to watch the sunset each evening. From $145
Beach Resort, Luxury Resort, Complimentary Breakfast, Family-Friendly
For a trip to Saugatuck that focuses on luxury instead of adventure, stay at The Hotel Saugatuck. King-sized beds, hydrotherapy tubs, and fireplaces are just a few in-room amenities at this historic bed and breakfast. Enjoy a gourmet breakfast delivered to the room each morning then relax nearby at Oval Beach.
From $239
Holland, Michigan: 2.5 Hours from Chicago

Beach Resort, Outdoor Cooking, Family-Friendly
Slightly further up the beach from Saugatuck is the Lake Ranch Resort in Holland, Michigan. As Holland's only waterfront resort, you're only steps away from Lake Michigan. A variety of suite and bed sizes ensure you'll find the perfect room for your family. Once you've arrived, relax in the heated pool, eat dinner at a gazebo using the gas grills, and watch the sunset—all without leaving the resort.
From $109
Sheboygan, Wisconsin: 2.5 Hours from Chicago
Waterpark, Spa, Family-Friendly
Traveling with kids? Visit Blue Harbor Resort in Sheboygan, Wisconsin. This resort hotel includes a 43,000 square foot indoor waterpark that's sure to please any child. When you're done swimming, visit the miniature golf course or try out the on-site spa. Suites range from one to four bedrooms and many include private patios, fireplaces, and whirlpool tubs.
From $149
Mackinac Island, Michigan: 7 hours by car, 3 hours by plane
Beach Resort, Complimentary Breakfast , Complimentary Dinner, Family-Friendly
The views from the Grand Hotel make the longer drive to Mackinac Island worth it. Relax by the swimming pool, visit the beach, or take a horse and carriage ride around Mackinac Island. A full breakfast and five-course dinner are complimentary in most guest room rates (don't worry, they have special dinnertime activities for the kids too). Afternoon tea, evening dances, and lawn games will take you back in time at this luxurious historical resort hotel on Lake Michigan
From $319