Make room for life with low-maintenance senior living in Chicago.
When you consider the amount of time and energy that comes with the upkeep of a home, it can quickly become overwhelming. Whether it's calling a repairman to fix an appliance, shoveling snow in the winter, keeping up with dishes or maintaining landscaping in a yard or balcony, the list can seem never-ending. Residents of a low-maintenance community such as The Clare know they will always be living in a well-kept and beautiful home — indoors and outdoors. Low-maintenance living is ideal for those who want to live life to its fullest and want to relish the time gained by crossing everything off their to-do list.
The benefits of low-maintenance living multiply when you also consider downsizing your residence or moving into a community that takes care of the mundane day-to-day tasks homeowners often face.
People say 80 percent of what we own, we never use. Downsizing and reducing clutter can create a calmer environment, reduce stress levels, save time and money, and help you maintain control of your own life. It can offer the financial and social freedom to travel more, spend more time with friends and family, and explore more of Chicago's big-city culture and amenities.  At The Clare, our full-time design and move-in coordinator helps with all aspects of minimizing and moving.
Unlike many low-maintenance living options, The Clare lifestyle extends far beyond the comfort of your residence — the entire community is your home. Add the unique location and enriching programs and social calendar and you will see why The Clare is the top choice for many independent, active adults who love city life.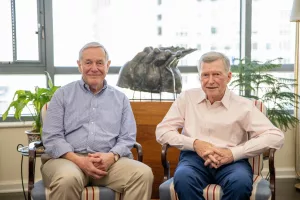 "This is the best part of the city to live in as far as I'm concerned."
Jack Jennings, The Clare Resident
Hear residents share how living at The Clare has given them more time, energy, and passion to focus on things that bring them more freedom, fulfillment and peace of mind.
---
Call us soon to learn the unique opportunities available at The Clare.