New Construction Chicago: Adding to the Skyline in 2016 and Beyond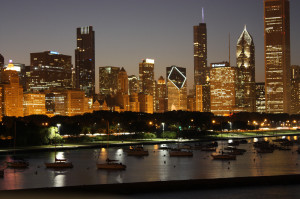 National Oceanic and Atmospheric Administration
Like most large cities, the Chicago skyline evolves and grows each year, adding and replacing buildings with bigger, more innovative structures. These structures serve many different purposes, including additional housing for a growing population, new office space for expanding businesses, and ultra-modern, chic hotels. Here are the latest developments you can expect to join the iconic Chicago skyline in 2016 and beyond.
Residential:
Wolf Point West
Out of the three Wolf Point buildings at the confluence of the Chicago River, Wolf Point West is the smallest at only 493 feet tall. Wolf Point South will stand almost twice as tall at 950 feet, and a 750-foot Wolf Point East building will finish the trio designed by bKL Architecture.
This 48-story building will hold over 500 apartments. The three-tower plans include a surrounding river walk and beautifully landscaped gardens. With a groundbreaking ceremony held in July 2014, Wolf Point West was completed in early 2016, with the first residents moving in on January 11.
200 N Michigan
The new high rise at 200 North Michigan Street, referred to as MILA (a combination of "Michigan" and "lake"), is a 41-story building located between Millennium Park and the Magnificent Mile. This 488-foot glass structure holds 402 apartment units and opened in May 2016.
Also designed by Chicago-based bKL Architecture, MILA contains two floors of high-end retail space. Residents of the new upscale apartments have access to an entire floor of amenities, including a fitness center, lounge, game room, and room for private parties. The top of the tower features a scenic outdoor pool and even a dog run for residents.
545 North McClurg Court
This 45-story apartment building plans to have 490 apartment units and 5,200 square feet of retail space. The tower stands at 485 feet and is comprised mostly of one-bedroom units, although there will be some two-bedroom and studio spaces available.
Developer Golub & Company spent the past four years getting the project approved and is working in conjunction with architecture company Solomon Cordwell Buenz. Although an opening date has not been set, the building "topped out" in early spring 2016.
State and Chestnut
The 35-story apartment building located at State Street and Chestnut opened in the summer of 2015. The 410-foot building was designed by Solomon Cordwell Buenz and holds a total of 367 apartment units. These include studio, convertible, one-bedroom, and two-bedroom rentals.
Luxury amenities for residents of the State and Chestnut building include a fitness center, full concierge service, a landscaped terrace outfitted with a fire pit, herb gardens, and several lounge areas. The high-end apartments offer pet care and maid services for tenants. In addition to routine pet care, the State and Chestnut apartments even offer a full spa with grooming capabilities for pampered pets. The roof of the building holds a 5,000-square-foot patio with an outdoor pool, fire pit, and stunning views of the Chicago skyline.
River North Tower
Scheduled to begin construction in mid-2016, the River North Tower, known as 3Eleven, will be 24 stories and contain 245 residential units. The first floor will hold the residential lobby as well as retail space that faces LaSalle and Superior streets. The River North Tower showcases a state-of-the-art fitness center, rooftop pool, lounge, and spa areas for the residents, in addition to a dog run and park right outside the building that will be open to the public. The River North Tower does not yet have a completion date, but most likely will be completed by 2017 or 2018.
Office Space:
While residential space continues to expand faster than any other construction category, the two largest buildings currently under construction are being erected with commercial intent.
River Point
Designed by Picard Chilton, the River Point tower will stand at 730 feet. The 52-story office building is located in Chicago's downtown West Loop and sits on the bank of the Chicago River. River Point's blueprints feature a 5,000-square-foot fitness center, winding river walk, and 10,000-square-foot formal restaurant. The building boasts floor-to-ceiling glass windows that provide a 360-degree view of the city. A three-story lobby sits at the base of the River Point office building; the over 1.5-acre riverside plaza will be the largest in the city. This colossal commercial space is slated to open for business in early 2017.
150 North Riverside
With a unique structural design that narrows at the base levels, 150 North Riverside is a modern, innovative building that sits directly beside the Chicago River. At 742-feet tall, the tower is the largest currently under construction in Chicago and will have 54 floors of luxury office space. The building hosts an array of extra perks, including a first-class restaurant, casual dining space, and almost 1.5 acres of park and plaza area. The plans also detail a 6,500-square-foot riverfront fitness center and an expansive ballroom available for hosting private events. Scheduled to be completed by January 2017, 150 North Riverside will add a unique and contemporary silhouette to the Chicago skyline.
Looking Ahead:
Wanda Vista
Designed by famed Chicago architect Jeanne Gang, Wanda Vista is in the running for the third tallest skyscraper in Chicago. The proposed plans detail a 1,144-foot building that joins the Lakeshore East campus and functions as a mixed-use tower that holds 169 hotel rooms, 405 condominiums, and a restaurant area for residents and guests. The building would also include a 5,400-square-foot ballroom available for private parties.
If approved and completed, the building would be the tallest building in the world designed by a woman-owned architectural firm. The building still needs city approval because of a height limit already in place for the Lakeshore East campus. The Wanda Vista building is 500 feet over that limit, requiring an override from the city council before the project can be started. If approval is granted, Gang's company expects to complete Wanda Vista by 2019.
645 West Madison Street
Developers have been trying to convert the parking lot property at 645 West Madison Street into office space for more than ten years. After constant holdups and struggles between various architecture firms, bKL has submitted plans for a proposed office tower. This valuable property is located between Chicago's central business district, referred to as the Loop, and the West Loop, an up-and-coming business and entertainment hub.
The proposed 19-story building will consist of 15 floors of office space, two parking levels, and an expansive floor containing more than 6,500 square feet of retail space. The ground-floor plans include an open office lobby and fitness center.
At the ground floor, outdoor terraces encircle the tower at 645 West Madison Street, while the roof boasts a public terrace accessible to all and a private terrace for commercial residents of the top floor. Although plans have been submitted, there is no scheduled start or completion date for the new skyscraper planned for 645 West Madison Street.
With constant updates to the Chicago skyline, there is much to look forward to in the coming years of architectural progress. New hotels, apartment buildings, and office towers hint at expansive growth and success for this innovative city. Keep an eye out for these towers joining Chicago's evolving landscape in 2016 and beyond.