The Clare Earns Top Marks in Resident Satisfaction Survey
Residents are happier than ever to be living at The Clare, as they indicated in a recent survey conducted in the community.
Overall satisfaction at The Clare ranks at 91%, according to the results of the 2021 The Clare Resident Satisfaction Survey. This percentage is based on high ratings in three categories in particular:
– Very satisfied with The Clare as a place to live (93%
– Would recommend The Clare to friends and family (91%)
– Feel at home at The Clare (89%)
"Our overall results are the highest they've been," Executive Director Kyle Exline says. "I think it speaks to the stability and longevity of our team, as they're the ones providing the high-end levels of service to our residents."

Indeed, residents pointed to staff and fellow residents as two components they like best about The Clare community.
"Our residents love being at The Clare for the people here – their neighbors and our employees," Kyle says. "The Clare's sense of community always outweighs every other amenity we have."
In addition to answering standardized questions, residents filled in individual comments and suggestions about The Clare at the end of the survey. In these notes, they commended everything from activities and fitness classes to peace of mind and dining services.
"This gives us real-time feedback of what is working well and demonstrates opportunities to improve certain areas," Kyle says. "In many ways, these comments are more important than the general scores."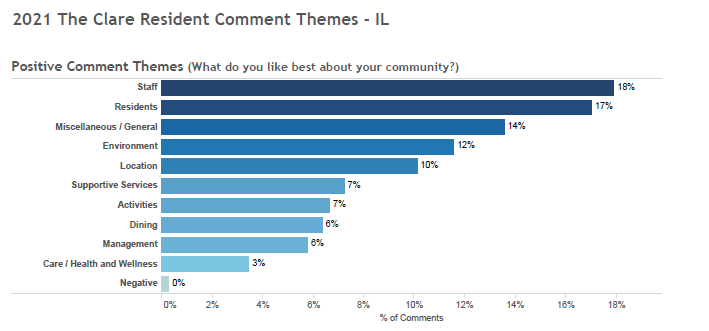 With such positive results, The Clare certainly has a lot to be proud of. However, you won't see The Clare team settling or sitting back any time soon.
"Resident satisfaction is evolving at all times," Kyle says. "Expectations shift with each new resident who moves in. We are aware of that and prepared to adjust our services based on continued feedback."
The survey was conducted in conjunction with Sensight Surveys and Life Care Services, which is The Clare's ownership and management company. Of the 263 Independent Living residents who received the survey, 238 returned it for a 90% response rate. All responses were entirely anonymous. The Clare typically conducts the survey every two years to gauge resident satisfaction and identify areas of improvement.