A Day in the Life of The Clare Concierge
What is concierge service at The Clare? Michael Kwyer shares an inside look at his daily activities and interactions and his favorite part about working in the community.
At 2pm one afternoon in January, Michael Kwyer is at his desk. A constant crowd of people stream through the Lobby, both in and out of the elevators and on to brave the cold. Michael notes there's been an increase in visits, communication and requests since The Clare's renovations in 2015, after which his desk was relocated to the ground level. However, he says this time is his favorite part of the day.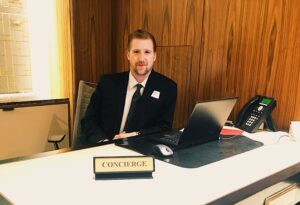 "After mealtime, around 2:30pm, there tends to be very high traffic down here," he says. "There's a lot of noise and a lot of craziness, but that's a lot of fun too, because people are coming and going and I get to greet everyone and chat with them. The day is winding down and people are more relaxed."
Michael, one of the two concierges at The Clare, has been with the Resident Experience team for five years. Before The Clare, he worked as a bellman for eight years until he found his passion as a concierge.
"I've always loved the city, so having the opportunity to share the joy Chicago has to offer was what made me want to be a concierge," Michael says. "It's a lot of fun to be able to help people in this way."
Specifically, Michael enjoys working at The Clare because there is a sense of community between the residents and employees.
"I connect with the residents in so many different ways," he says. "You don't necessarily get that kind of rapport with hotel guests."
Work starts for Michael at 8:30 a.m. during the week (his counterpart, Heidi, provides personal concierge services on the weekends). He mentions it is important to multitask and prioritize throughout the day. While he takes care of some smaller responsibilities, such as assisting residents in looking up phone numbers, handling work orders and printing the resident-led monthly newsletter, The Clarion, he also does his part to maintain day-to-day functions at The Clare.
For example, Michael helps to manage The Clare's incoming mail. When residents go out of town, they may ask him to hold or forward their mail. So every Friday, he goes to the post office to handle their requests and to buy stamps.
Coordinating transportation for residents is another of Michael's duties. This involves updating the car and bus schedules and communicating with The Clare's three drivers. He also schedules Lyft rides for residents if The Clare vehicles are already booked.
Additionally, Michael reserves The Clare's guest suites when residents' friends and family members come to visit. He constantly checks and updates a spreadsheet of available rooms to ensure accuracy of reservations, check-ins and check-outs. When The Clare's guest suites are occupied, Michael connects with nearby hotels – even Loyola University Chicago – to ensure available rooms.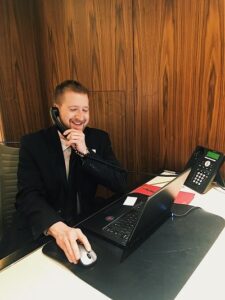 Along with guest suite and hotel reservations, Michael assists residents in booking airline tickets and appointments at The Clare's massage suite. He also coordinates ticket purchases for various plays and performances around the city. He loves receiving suggestions for the many places that interest residents. And he especially enjoys hearing about their experiences afterward.
"It goes back to helping people enjoy the city," he says.
Overall, Michael is truly happy with his job at The Clare, especially because of the residents with whom he interacts, the community's vibrant atmosphere and the nature of his work providing personal concierge services. His passion shines through his friendly demeanor, and the results are rewarding.
"I love when I can really help somebody – when I do something that really makes a difference to somebody," he says.