Clare Residents Give Back Through WITS Chicago
Clare residents always seek ways to give back to and connect with the city. WITS Chicago allows them to do just that.
WITS, or Working In The Schools, aims to create positive learning communities through volunteer literacy mentor programs for under-served Chicago youth. It also promotes teacher professional development.
"Volunteering with WITS gives residents a sense of community and purpose within Chicago," says Lori Griffin, Director of Resident Experience at The Clare.
Two Clare residents, in particular – Ginny and Roger Carlson – have been advocates of WITS since its inception. Ginny, a retired teacher, joined WITS in 1991 and was one of the organization's first volunteers. That same year, she was asked to serve on the Board of Directors, and she recruited Roger to help with finances, as he was a broker and financial adviser with Smith Barney. Both Ginny and Roger were instrumental in establishing the WITS Early Childhood Program.
"We have great enthusiasm for WITS Chicago and their mission to help inner-city school children enrich their lives through the joy of learning," Ginny says.
Since the Carlsons moved to The Clare in 2015, they helped to inspire 28 residents to participate in WITS Chicago. Twenty currently volunteer on a weekly basis, while eight serve as substitutes, filling in when needed. Those numbers continue to grow.
"Ginny and Roger were very involved and connected with WITS," Lori says. "They saw an opportunity to encourage Clare residents to help Chicago Public Schools in a much needed way. Since kick starting the partnership, the WITS-Clare relationship has grown to be extremely important to both organizations."
Once a week throughout the school year, residents read with nearly 70 kindergarten students at CPS schools. Such intergenerational programming allows residents to become consistent, caring adults in the lives of WITS students. They also provide the children with early, joyful reading experiences.
"It is refreshing to see the world through the eyes of 5-year-olds once a week, and to see them learning as they move through the school year," Clare resident Dorothy Pirovano says. "Some don't know all of the letters of the alphabet when we start reading together. By the end of the year, they have progressed to recognizing many words and wanting to read on their own."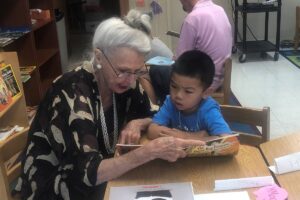 Plus, volunteering with WITS Chicago proves mutually rewarding for residents and students alike. Not only do residents connect with one another, but they also connect with the children with whom they're reading. And as much as the students benefit from the residents, the residents also grow through the experience.
"There is a wonderful camaraderie among the volunteers on our bus rides to and from the schools as we share ideas we've found to work particularly well with the kids," Dorothy says. "The unifying theme is our desire to help our kids learn and our delight in seeing them master this essential skill. I always tell new volunteers that they will get as much out of volunteering as the kids do – maybe more."
And the contribution that residents and other volunteers make to Chicago schools is tangible. About 70% of WITS students exceed the national average for annual reading level growth, according to the WITS Chicago website. Meanwhile, more than two-thirds of participants have more positive attitudes toward reading by the end of the year.
"By creating welcoming and fun reading experiences for kindergarten students, The Clare residents are fostering a positive reading culture for the entire school," says Kristen Strobbe, Chief Program Officer with WITS. "The Clare volunteers play an integral part in the schools' overall literacy initiatives. Those initiatives are successful with the help of community partnerships like WITS and The Clare."
Beyond in-person volunteering through tutoring and reading, Clare residents organized internal community efforts to support Chicago schools. For example, they began a community-wide initiative to collect Box Tops for Education coupons from General Mills products. They then donate them to the WITS schools in Chicago where they volunteer. More recently, they encouraged all residents to save holiday cards, birthday cards and others for craft projects in these classrooms.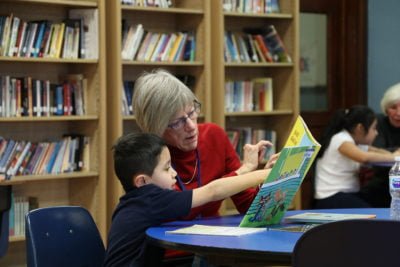 "To see so many Clare residents volunteer and celebrate the joy of helping a child build a foundation for a productive life is truly wonderful," Ginny says. "Anyone who says one or two people can't make a difference have been proven wrong. So many Clare volunteers and hundreds of other WITS volunteers around the city are making the world a better place for the children they work with, and for all of us."
Of the many Chicago volunteer opportunities available to residents, WITS Chicago remains a preferred organization for The Clare. That's because it keeps residents involved with the city at large and yields real results for the children.
"It is vital to remain active and engaged as one ages," Lori says. "Part of living a life of optimal well-being includes connecting to a greater purpose. Our partnership with WITS allows residents to give back in a meaningful way."