6 Reasons to Choose Short-Term Rehabilitation at The Clare
After an illness, injury or surgery, a licensed team of therapists at The Terraces at The Clare can help residents return to health and wellness. Our short-term rehabilitation professionals provide exceptional service, a safe environment and customized therapy plans so residents can return to their highest level of independence.
6 Reasons to Choose Short-Term Rehab at The Clare.
Personalized care plans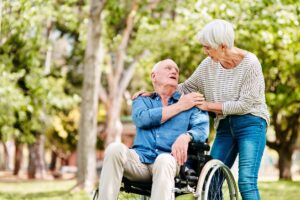 The Terrace's short-term rehab program is based on a person- and family-centered philosophy. Personalized care plans are designed to honor residents' overall health, social, psychological and nutritional needs. Depending on the individual, personalized one-to-one physical, occupational, speech and respiratory rehabilitation is offered.
A deficiency-free rating is not easy to attain. The Clare's deficiency-free designation means we operate in compliance with all state and federal regulations including patient care, services offered and staffing. Cleanliness, infection control protocol, a safe environment and exceptional service are our top priorities.
Our Team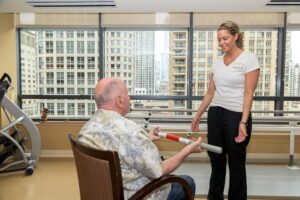 Our rehab professionals are employed directly by The Clare. This provides residents not only continuity of care, but also aids in a resident's trust and connection with the rehab team.
"The Clare is truly fantastic! After my mother fell and broke her hip, we had her sent to Rush Hospital in Oak Park for surgery. Shortly after, she was transferred to The Clare for sub-acute rehab per the recommendation of her orthopedic surgeon. The therapy team was perfect! They had her back on her feet, walking and navigating 13+ stairs in our home in under a month! They even set us up with caregiver services and provided her with all of the equipment she needed after her discharge! I could not have asked for anything more."
~Zachary, resident's son
Highly qualified team
Ginetta Shehade is the Therapy Manager at The Clare. She oversees a licensed, extensively trained team of physical, occupational, speech and respiratory therapists. Specialized sub-acute rehabilitation services are provided as needed. The therapy team is on-site to provide therapy services seven days a week.
Short-term Rehab Admission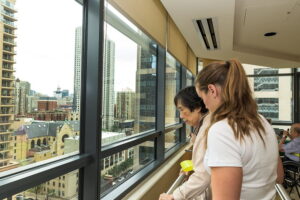 The Terraces at The Clare admits those in need of short-term rehab. Local hospitals confidently refer patients with an upcoming discharge date and a physician's order for sub-acute rehab to us. The Clare engages closely with families to provide timely responses and to help verify insurance coverage. The team then communicates with hospital social workers to ensure that upon resident arrival, they receive personalized rehab plans and the assistance they need.
"Parent was well-taken care of, compassionate care, with private rooms. High cleanliness standards and luxury lobby like a hotel."
~Kev, resident's son
Tasteful, healthful dining
Food can be both flavorful and healthy. That is what every rehab resident enjoys daily at The Terraces at The Clare. Residents are served fresh, delectable entrées, prepared by our chef three times a day. The Clare's own registered dietician and if needed, speech therapist, oversee any and all special dietary needs of each new resident. Whether it is a physician-ordered diet or a special request of a resident, any special needs and requests are gladly accommodated.
---
Explore short-term rehab at The Clare.
Enjoy the comfort of exceptional service and a safe environment while receiving short-term rehab in a convenient downtown Chicago location. We are here to help, so contact us today.