8 Qualities to Look for in a Memory Care Community
Knowing what to look for in a memory care community can help you select the right place for your family member or friend. While each memory care community offers various services and care options, there are certain top qualities you should consider to ensure you are making the best choice for your loved one. You will find peace of mind knowing that you have found an ideal environment to ensure the quality of life for the one you cherish is not compromised.
Specialty-trained team
Those with cognitive loss diagnosis such as Alzheimer's and other forms of dementia need a caring, supportive, attentive staff who are specifically trained to understand the behavioral and emotional needs that these conditions create. Make sure to ask whether the staff has the specific and additional training needed to properly care for your family member. A full range of on-site community healthcare services is a value-added benefit. At The Terraces at The Clare, each member of the memory care staff attends an extra eight hours of training annually to ensure the highest quality of care.
Moments of Joy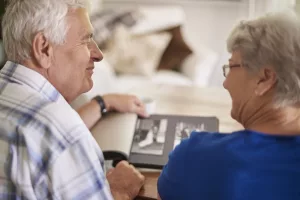 Research shows individuals living with memory loss will continue to utilize their interests and talents. The best memory care communities offer care and support that enables residents to continue living a life filled with purpose and joy while honoring their personhood, past accomplishments and background.
"When my mother moved to The Terraces, I saw a fascinating transformation. She is thriving. It's such a happy change for her. The staff is so kind and patient. They are angels and saints."
~Alice, Adult Child
Personalized Care
While memories may fade, the best memory care communities know that past relationships and experiences continue to shape our lives. In addition to physical needs, it is crucial to ensure that the community's care team works with you and your family to create an individualized care plan that outlines their history, skills and preferences to the staff as a means of allowing meaningful days with tranquility and purpose. The Terraces at The Clare reviews individualized care plans upon move-in, as needs change and annually.
"Before my mom had a stroke, she was in independent living. The Clare suggested Memory Care at The Terraces. They had their decorators and designers match her old apartment layout and moved all of her things. They did everything! I cried I was so happy." ~Alice
Family Involvement
Memory care is not just for the individual dealing with cognitive impairment. It also serves the needs of their family. Check out the mission statement of each community. The best communities will keep you informed on the ongoing status of your family member or friend. Best of all, when you know they are enjoying the best quality of life possible, you can step back into the role of a loving spouse, friend, daughter, son or grandchild.
Safe Environment
When it comes to residents dealing with cognitive impairment, safety and security are a top priority. Highly rated memory care communities are designed to reduce stress and anxiety and include specifically designed features and technology to keep each resident safe. Essential security measures for a community include around-the-clock supervision, motion sensors, handrails, emergency call buttons and automatic lighting.
Meaningful Activities and Programming
Review the activity or programming calendars of the communities you are considering. They will give you a great understanding of how the team provides enriching, engaging activities that promote socialization. A full calendar will also help keep your loved one meaningfully and purposefully engaged,  which will aid in slowing disease progression.
Dining and Nutrition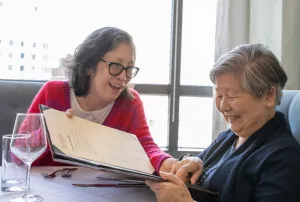 Excellent memory care communities know that nutrition is more than calories consumed — it is an experience that can connect residents to one another and to the past. Watch for menus that are varied, offering comfort foods, specialized diets and other nutritional options. The community should also have dignified plans in place for residents who may have challenges using traditional silverware or need additional feeding assistance.
"I don't have to worry about her taking her medications, or eating, or getting dressed because the staff takes care of everything — 24 hours a day. Now I get to be her daughter again and just have a good time with her." ~Alice
Location
Deciding the location of the memory care community is important so you can plan to visit regularly. You may want to consider the proximity to your loved one's physicians as they likely have established a rapport with the family and patient. Make sure to define the geographical area where you want to focus your search. For example, if you live in or frequently visit Chicago, consider The Terraces at The Clare. Many people begin their quest with a search for "memory care communities near me."
"I'm so grateful my mom was able to stay in the same community. You get used to a place — the people, the staff, the surroundings — and then to have to move somewhere else — that would be devastating."
---
Take a closer look at The Terraces Memory Care residences at The Clare. Learn more about how we promote physical and emotional well-being, support daily functioning, and help maintain a sense of purpose, satisfaction, dignity and the highest quality of life. Contact us today at (312) 784-8015 for information about availability and to arrange a visit.