A Day in the Life of Maintenance at The Clare
What do building maintenance services look like at The Clare? From keeping the facility running smoothly, handling operative emergencies, assisting residents with in-home requests, and setting up for various events, building maintenance services at The Clare vary significantly.
Harvey McCray, a maintenance technician at The Clare, has experienced it all. He shares how he came to work in building maintenance services at the community, the opportunities afforded to him to learn new skills and why he enjoys coming into work every day.
From Housekeeping to Maintenance
In November 2012, Harvey joined The Clare team as a housekeeper in the Environmental Services department. After two years, a position opened up in the Plant Operations department.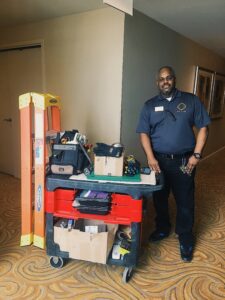 "When I was working in housekeeping, there was another employee who had the opportunity to transfer to maintenance," he says. "I started working harder so that when another position opened up, I went for it. There are always opportunities at The Clare, and I took advantage of that."
The purpose of Plant Operations at The Clare is to ensure that all units are livable, operational, certified, and qualified as a senior living facility. Meeting these requirements is a team effort. Elevators, electrical and plumbing systems and more must be inspected regularly, and the department follows stringent high-rise standards.
Harvey's main responsibilities in Plant Operations initially included watering flowers, taking care of the sidewalks around the building and changing light bulbs and filters. He now helps set up for the majority of weekly events. This involves checking microphones and audio, arranging areas for presenters or performers and setting up and taking down chairs before and after an event. There are about five set-ups for activities per day.
"Two or three people in the morning can set up an event, but most of the time, there is only one person available," he says. "Some events are already set up, so I just come back and set up for the next event."
During his time with Plant Operations, Harvey has acquired many new skills. Currently, Harvey is in charge of changing apartment air conditioning filters in all Independent Living units. Even now, he still hopes to learn more about inventory/control in addition to maintenance.
"When Harvey joined the Plant Operations department, we wanted to create a career path for him to become more knowledgeable in maintenance," says Frank Buchberger, Director of Plant Operations. "We sent him to seminars to explore how electricity works. Now he can take care of small electrical issues: changing light bulbs, changing filters, testing and documenting water temperatures, inspecting elevators and more."
Growth in his position keeps Harvey going every day.
"I knew how to do some technical things before, but everything else I learned from my colleagues and just by working at The Clare," he says. "There is always plenty more to pick up on, and being here allows me to do so."
Importance of Facilities Maintenance at The Clare
While the Plant Operations department is responsible for many tasks to ensure the building and equipment are running smoothly, the team also performs routine and emergency repairs in residential apartments and completes resident work orders. Rather than finding a contractor, the Plant Operations department at The Clare allows residents to have convenient and timely assistance.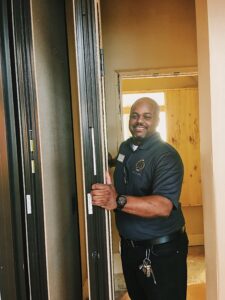 Every Monday, the maintenance team receives a weekly event and building maintenance checklist to know what events require their assistance. This checklist guides Harvey and the other Clare technicians in terms of their tasks. However, resident requests provide a level of unpredictability in their day-to-day schedules.
On average, Independent Living residents submit 1,200 work orders a year, Frank notes. This does not include the approximately 600 maintenance calls received a year for residents in The Terraces, which includes Assisted Living, Memory Care and Skilled Care.
"Basically, anything can happen," Harvey says. "We get emergencies, systems breaking down, a leak, a flood – everybody has to get involved. If it is something too technical, we contact our vendors for assistance."
Through an application on their phones, The Clare's maintenance technicians can see when residents submit individual work orders. Through the application, Harvey and the rest of the team communicates which work orders have already been completed. The 2018 yearly average of completed monthly orders was at an impressive high of 96%.
All of this keeps Harvey quite busy on a daily basis. But the residents and his coworkers make it all enjoyable.
"I have fun at work," Harvey says. "I take my job seriously, but you can't always be so serious. The residents have a great attitude toward life. And if your team is there with you and you're all working together, there's never a bad day."