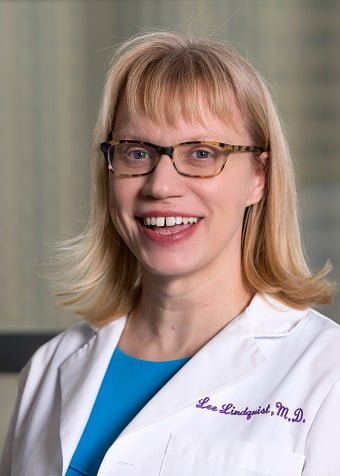 Dr. Lee Lindquist
MEDICAL DIRECTOR AT THE TERRACES AT THE CLARE
Dr. Lee Lindquist has been the Medical Director of The Terraces at The Clare for over a decade. Her skill and experience are rooted deeply in geriatric care. She is the Chief of the Division of Geriatrics at Northwestern Medicine. Additionally. Dr. Lindquist is a Professor of Medicine at Northwestern University Feinberg School of Medicine, where she teaches and conducts innovative, patient-centered geriatric research. The Geriatric Division that Dr. Lindquist oversees is ranked #1 in Illinois and #8 in the country by U.S. News & World Report. Dr. Lindquist's Northwestern alignment affords The Terraces at The Clare access to the medical center's labs and EHRs, which deliver real-time information sharing with Northwestern physicians.

Dr. Lindquist's geriatric expertise aside, she has a true passion for seniors and feels like they are a part of her family. Her highest priority in caring for seniors is to help keep them healthier longer and to remain as independent as possible.

Recognized nationally as a geriatric expert, Dr. Lindquist has been published in multiple medical journals and has been the geriatric voice for the New York Times, Harper's, Boston Globe and Wall Street Journal. Appearing on CNN, MSNBC, and NPR, Dr. Lindquist has been tapped by multiple news sources to cover current geriatric patient care and medical issues.