Jim Rocks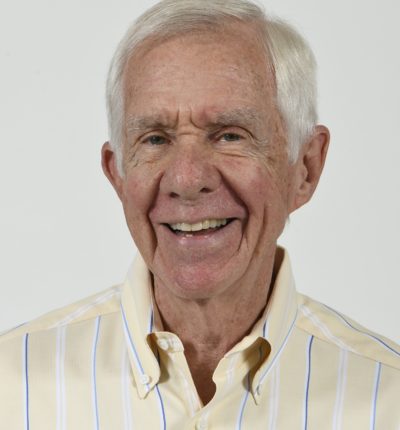 Jim Rocks was apartment hunting a few years ago when a friend asked, "Why bother? Just go to a retirement community."
It was a light bulb moment. For Rocks, now 77, such a move made personal and financial sense.
A Chicagoan since 1972 and Near North resident for many of those years, Rocks lives a full, highly independent lifestyle; he and his late wife of 30 years, Judy, had no children, and his closest family is states away. "I get to live that independent life I want at The Clare, plus the possibility of care down the road if it's necessary," says Rocks, who moved into the 42nd floor in June 2015. "It's nice to have that comfort."
Before he retired 11 years ago, Rocks was a university professor and dean and spent many of those years on the campus of Loyola University, which maintains a strong relationship to the Clare community through programming and activities.
Rocks laughs when he notes, surprisingly, that he's even busier these days than he was when he was working. And that's even with The Clare's staff handling all the things he doesn't want to do himself: housekeeping, cooking, and home maintenance.
"I'm doing things I couldn't do when I was working," Rocks says. "In fact, I've been running ragged lately trying to get things done. And with The Clare, you have even more choices of things to do."
Rocks attends the community's regular lecture series and educational activities. He exercises four days a week in the fitness center. And he takes full advantage of living in the center of one of the most culturally diverse cities in the world, regularly catching performances at the Chicago Symphony, Lyric Opera, and Goodman Theatre.
That's when he's even in Chicago. Rocks is a frequent traveler, sometimes out of town up to two weeks a month as he explores the world. He's a regular in Europe, and has seen some of Asia, Africa, and the South and Central Americas.
"I live my life, which means going out and being with friends and pursuing these activities," he says. "I'm still living my life that I lived before I came to The Clare, and more."
Rocks says it was a good decision to come to The Clare, where he can continue to live independently and have the peace of mind knowing help is nearby. "That's a very comforting feature to me, and for a lot of people who live here," he says. "I'm protecting myself against the possibility of the future."