Joy Hammer & Jim Morton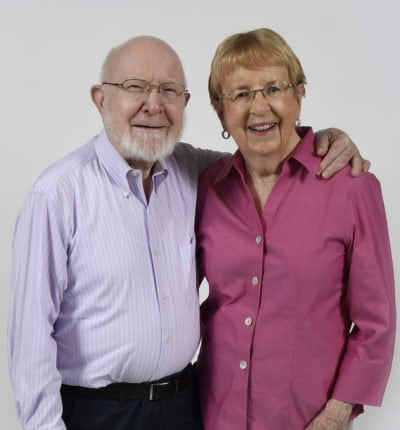 Concert picnics in Millennium Park, exercise classes, lectures, babysitting grandchildren, travel, movies and parties. And amid the flurry of activity in Joy Hammer's downtown Chicago lifestyle, she still finds time to long-distance manage the family grain farm back in Kansas.
That's a slice of the active life she leads at The Clare, the Gold Coast tower she's called home for the past four years.
Living here "is like being at a resort all the time," she says. "I could take all day to tell you about all there is to do here – they have so many that you have to pick and choose," she says, noting the educational lectures, social activities, concerts, and, once a month, a gourmet dinner on the 53rd floor with sweeping city views. "And as a former registered dietician, I must comment on the delicious, healthy food we enjoy in The Clare's three restaurants."
In addition, Joy also has the comfort of continuing care should unforeseen needs that may arise. "I moved here knowing that it would be a place I could stay the rest of my life and get the care that might be required," Joy says, noting the difficulty she had taking care of her own parents in their later years. "And I didn't want my daughters [in Chicago] to have to do that. They have their own lives and are very busy with family and jobs. So The Clare answers the questions of what will happen when I need help."
Joy grew up in the suburb of Elmhurst and was commissioned in the U.S. Air Force, where she met her husband, Stan. They spent 37 years on the farm-ranch in Kansas, and after he passed away in 2007, she moved to Chicago to be closer to her daughters, and later, to The Clare. Her partner, Jim Morton, is also a Clare resident. He and Stan were best friends from their Air Force days, and after Jim's wife of 54 years passed away, Jim moved from Michigan to Chicago to be with Joy. "I was happy to follow," Jim says.
Jim takes full advantage of The Clare's well-equipped fitness center. "I work out every weekday," he says. Joy usually does a class with a personal trainer.
Morton served 30 years in the U.S. Air Force, where he was a hospital administrator. He commissioned as a 2nd Lieutenant and climbed the ranks to retire as a Full Colonel. After retiring from the military he was CEO of a civilian hospital for 11 years.
"We have found so much in common with the people that live here – there are so many professional people, retired businessmen and women," Morton says.
"I have convinced him that Chicago is the most wonderful city in the world," Joy adds with a laugh. And with all they have going on at The Clare and in the Windy City, "I think he believes it now."