John Buchanan: A Life of Impact
Get To Know John Buchanan.
Clare resident John Buchanan didn't always intend to become a pastor.
When he graduated with a degree in government, he was unsure of what came next. He took a couple of corporate interviews and sent applications into law schools. Then, a college advisor recommended the University of Chicago Divinity School.
At first, John was hesitant. Why would I want to do that when I'm not setting out to be a minister? he thought. But his advisor convinced him of the academic value in store, and his mind was made up.
Little did he know that this decision to come to Hyde Park with his wife, Sue Buchanan in 1959 would result in a 50-plus-year career as a pastor and a lasting impression on a long-standing Gold Coast church and the surrounding community.
The Early Days
Within a year of studying at the University of Chicago Divinity School, John had caught the bug. He was entranced by the world of academic religion presented to him. He discovered scholars who were experts in their fields of theology, biblical studies, human psychology and others. His studies captured his imagination and propelled him toward ministry as a profession.
"I decided this is what I want to do with my life," he says. "There was no lightning bolt or thunder. It was a gradual process."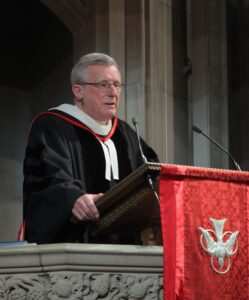 He got on track with the Presbyterian Church and registered as a candidate for ordination. He accepted a position as a student pastor at a church with a small congregation in Dyer, Indiana. He began to see the complexities of Christian faith and how it expands beyond the intellectual and theological to work directly in people's lives.
"As a very young guy, I began to realize this is a unique profession," John says. "You're manager of a small business. You're a counselor to people in stress. You have the privilege of standing with people at life's most extremes – birth and sickness and death. You're expected to do some reading and be a resident scholar, and once a week you get to stand up and talk. There's just no other job that I know of that affords you the opportunity to do all those things."
John and his family stayed in Dyer for a total of six years. He moved on to Lafayette, Indiana to serve as a pastor of a midsize suburban church for eight years. And he was called to a large, downtown church in Columbus, Ohio, where he remained for 11 years.
But Columbus wasn't where John would wrap up his career.
The Move to Chicago
Although John knew about Fourth Presbyterian Church located on Chicago's Magnificent Mile since graduate school, he never imagined working there one day. When a search committee reached out to gage his interest in consideration as a candidate at Fourth Presbyterian, though, he immediately said yes.
Following a lengthy interview process, a nomination by the search committee and a vote from the congregation, John became Fourth Presbyterian Church's pastor in 1985.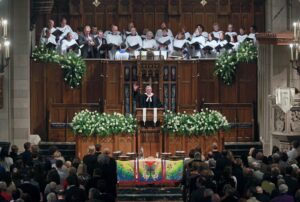 "It has not only this central position in the city, but also a reputation for wonderful outreach programs to its neighbors," John says. "I love that – the combination of being a presence on Michigan Avenue but also deeply invested in programs to help the homeless, the children and more."
During his 26 years of service at Fourth Presbyterian, John was instrumental in many significant advancements for the church. He worked to develop mission programs and add staff so that the social service center became a full-time operation. He helped grow the church's tutoring program attendance from 150 to 500 participants. Volunteers for this program often became church members, expanding and enriching the congregation.
As the church grew, the need for more space became increasingly apparent, which led to the addition of the Gratz Center, featuring the Buchanan Chapel.
"It's hard to put into words how honored my family and I are at the decision to name the chapel," John says. "I'm very proud of the space, and very humbled more than anything else."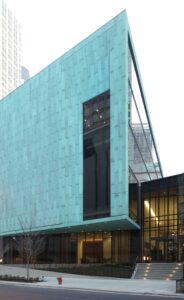 A Proponent for Inclusivity
One main accomplishment for John over the course of his time at Fourth Presbyterian Church was fostering interfaith outreach and relationships.
One example is the strong connection he advanced between the Chicago Sinai Congregation and Fourth Presbyterian. Not long after he started his new role in Chicago, the synagogue's rabbi requested to hold Sabbath services on Friday nights at the church. This later progressed to services for High Holy Days like Rosh Hashanah and Yom Kippur. The relationship continued to evolve to include common bible studies, retreats and seminars.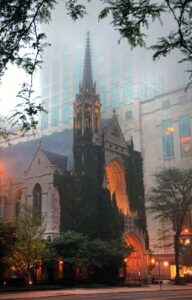 John also advocated for inclusion in the church, fighting to open ordination for positions like elders, deacons and ministers to those with different gender orientations. In 1996, John was elected as moderator of the General Assembly of the Presbyterian Church USA, which is the highest elected office. At that point, the church voted against the ordainment of gay and lesbian individuals.
The vote prompted John to organize with others in an effort to build a more inclusive, gracious and welcoming church. He went on to help form the Covenant Network of Presbyterians, which John co-moderated for several years to further this mission of inclusivity. Years later, in 2011, the Presbyterian Church USA changed its policy. It now allows gay and lesbian individuals to openly serve in the church.
"It's been my interpretation of Christian faith that we need to be open and welcoming, and not because we want to be politically correct," John says.
Life After Fourth Presbyterian
In 2012, John Buchanan gave his last sermon at Fourth Presbyterian Church. In 2014, he moved to The Clare and settled into retirement. And in 2016, he left his role as Editor/Publisher of Christian Century, a twice-monthly journal of religion and culture.
John and Sue continue to worship at Fourth Presbyterian, and John remains involved with Presbyterian Church USA, serving as an interim preacher at different churches as he's requested to do so.
His work is, and always will be, as important to him as it is to those around him.
"People look to the church and to religion as a way to make sense of the world that sometimes feels like it's out of control, as a place of stability and kindness in a world where that feels rare," he says. "It's a place where some values that are so critical are affirmed and lived out – justice, kindness, healing and peace."