The City Life: 5 Surprising Reasons to Love Downtown Living
The city life has its obvious perks—exceptional dining, entertainment, and culture, to name a few. But other benefits of downtown living often are neglected, in part because they run counter to most expectations of city life. City and country living are not opposites, and here are five surprising reasons why downtown living blends the best of both worlds.
1. Access to Parks
What do you envision when you think of quaint suburban life? Pleasant neighborhood parks almost certainly come to mind. For some, this contrasts with their vision of city life as living in a concrete jungle. That thought couldn't be further from the truth.
Take, for example, our home city of Chicago. The Chicago Park District maintains more than 8,000 acres of open space, including more than 570 parks, 31 beaches, 50 nature areas, and 2 world-class conservatories. More than 5 percent of the total area of Chicago is parks! Finding green space doesn't require a trip to the country; it's woven into the fabric of the city.
What's more, it's not simply the presence of a park or two but the ability to go to a different park each day, if you so desired. There are open fields for sports, tree-covered benches for shaded relaxation, swings and monkey bars, and everything in between.
2. Coastal Vistas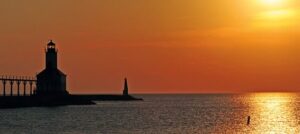 To support large populations, even advanced cities still depend on access to potable water, whether through proximity to a lake or river.
Water played another critical role in earlier societies, too: transportation. As a result, most major cities are located next to major bodies of water, whether New York or Boston along the Atlantic, Los Angeles and San Francisco on the Pacific, or more inland areas, like Chicago on Lake Michigan or Cleveland on Lake Erie.
What does that mean for city life? It means access to incredible coastal vistas at home and around town. The sight of a seemingly infinite body of water is always refreshing. Many small communities attempt to replicate the effect with manmade lakes and other artificial features, but nothing compares to a vast, shimmering blue horizon.
There's a reason we love to spend time at the lake or the beach. Choose a major city, and you may never need to leave home to go on vacation.
3. High-altitude tranquility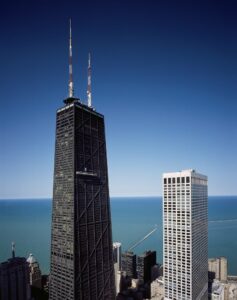 Cities are vibrant. They offer continuous movement, sound, and energy. Yet at times, you may seek tranquility. Few experiences put one at peace like a high-altitude perspective on a cityscape. Major cities allow you to rise above the din literally, taking solace in a home hundreds of feet above street level.
Apartment homes like those at The Clare provide precisely this experience—restorative calm not by leaving the city but by rising above it. Whether you are rejuvenated by coastal vistas or towering skyscrapers, both are options in Chicago and most other metropolises.
These above-the-fray viewpoints typically extend beyond your home as well, with unique dining and entertainment options perched above city streets. (SkyDeck Chicago, for example, is always an option.)
4. Car-free Living
Traffic. It's a classic critique of city life. But for those living in the city, it's also a thing of the past. Most congestion results from the daily commute—the coming and going between city and suburbs. True downtown living eliminates the need for a car and avoids traffic entirely. When your favorite restaurants and museums are within walking distance, traffic jams are irrelevant.
For venues farther than your feet will take you, public transportation provides an efficient alternative, whether by bus or light rail. Just as traffic jams can become things of the past, so too can concerns about digging a car out of the snow or enduring an interstate breakdown on a sweltering summer day. Transportation within a city is stress free and promotes daily exercise.
5. Hosting Made Easy, Enticing
City dwellers expect quick access to major airports and other transportation hubs. Certainly, you'll get that. But what lovers of city life think about less often is how enticing their downtown homes are for friends and family to visit. Rather than lamenting another trip to the sleepy suburbs, those closest to you can't wait to come back, again and again.
Once they arrive, you'll have endless opportunities to show them new corners of the city you love. From aforementioned parks and coastal views to world famous museums or sporting events, there's never a dull moment. The city life puts you in the heart of it all.