The Clare Ownership Company Ranks Highest in Customer Satisfaction for 2nd Year in a Row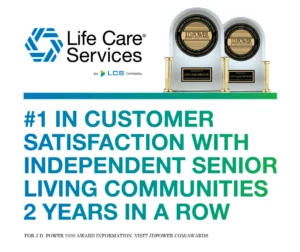 The Clare residents continue to be among the most satisfied in senior living communities.
That's according to the 2020 U.S. Senior Living Satisfaction Study from J.D. Power, in which Life Care Services, The Clare's ownership company, ranked highest in customer satisfaction among industry competitors for the second year in a row. The award demonstrates that residents are receiving care and service that goes above and beyond.
The award for Highest in Customer Satisfaction among Independent Living Senior Living Communities encompasses six individual resident-experience factors. Not only did Life Care Services win the overall category, but it also ranked highest within each of the six factors:
– Resident Activities
– Community Staff
– Dining
– Price Paid for Services Received
– Resident Apartment
– Community Buildings and Grounds
"This award represents the voice of our residents and is a testament to our commitment to serve the customer first and foremost," says Joel Nelson, president and CEO of LCS, the parent company of Life Care Services.
Given the unique circumstances the COVID-19 pandemic has presented the last few months, the award is even more meaningful.
"I'd like to recognize the heroic efforts of our community staff, who serve the residents each and every day," Nelson says. "Their diligence and perseverance provide residents with the best senior living experience possible."
Indeed, the pandemic has paved the way for innovation at The Clare. Programming and activities went virtual. Dining operations shifted to delivery without compromising quality. Day-to-day life for residents changed drastically, and weekly COVID-19 testing became the new normal for employees.
"This is an incredible honor for LCS, and it is a direct reflection of what we work toward every day at The Clare," Executive Director Kyle Exline says. "One of our principles is to serve the residents first and foremost, and navigating a pandemic in 2020 has only highlighted the importance of that principle."
Life Care Services ranked highest in independent living resident overall satisfaction with a score of 855 in the J.D. Power 2020 U.S. Senior Living Satisfaction Study. The study is based on responses from 4,992 residents, or their decision-maker, living in an independent, assisted-living or memory care community within the previous three years.