The Clare Raises Over $100K for Alzheimer's Association
Year after year, The Clare sets and surpasses fundraising goals for the Alzheimer's Association leading up to the annual Walk to END Alzheimer's, the nation's largest event to raise awareness and funds to fight Alzheimer's disease.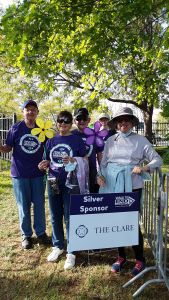 In 2021, The Clare raised over $15,500 in support of the Alzheimer's Association and their vision of a world without Alzheimer's disease and related forms of dementia. This means that since 2013, The Clare has donated more than $100,000 to this important cause.
"We have the honor of working with residents and their families that have Alzheimer's disease or related dementias," says Joanne Malleta, Director of Resident Health Services at The Clare and leader of the community's Alzheimer's Association fundraising efforts. "The Alzheimer's Association is invaluable to those going through this disease, with support groups, a 24-hour help line and much more. Our team is dedicated to their vision and providing Alzheimer's care in Chicago."
Throughout September, residents and employees alike had the opportunity to participate in various events geared toward fundraising for the Alzheimer's Association. During a silent auction happy hour, for example, residents bid for experiences like an exclusive dinner with The Clare's Executive Chef Hagop Hagopian or an evening at the Magic Parlour at Chicago's historic Palmer House. This yielded significant donations to kick off fundraising, as all winning bids go directly to the Alzheimer's Association, and ultimately Alzheimer's care in Chicago and beyond.
Additional donations stemmed from a 50/50 raffle and a Penny Wars Challenge, where residents distribute their spare change to the jar of specific team members at The Clare. Whoever has the most money in their jar will have to climb all 53 flights of stairs at the community. Meanwhile, employees made donations and enjoyed an ice cream sundae bar in exchange.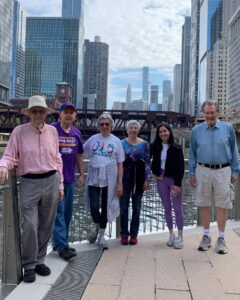 "I am inspired by the generosity displayed by everyone in the community," Joanne says.
Rounding out The Clare's fundraising events and pushing donations above the $100,000 milestone was a special resident-only 5k hosted by the community. This took place ahead of the official Walk to END Alzheimer's on Saturday, October 8 at Soldier Field, which residents attended, as well.
"Every dollar and every person make a difference," Joanne says. "Here is to $100,000!"