A New Approach to Fitness at The Clare
Wellness and fitness are crucial components of the overall resident lifestyle at The Clare. So, when in-person group classes were canceled and the Fitness Center and Pool closed in early March in response to COVID-19, keeping residents active was of paramount concern.
With each restriction implemented, The Clare's fitness team never wavered. They stepped up to the challenge, creating innovative ways to keep residents engaged and moving.
"Once COVID-19 hit, we started to figure out what we can do and change to make sure our residents did not miss a beat," Fitness Manager Emily Buxton says. "We took maybe three days off, and then we were right back into a routine."
Early COVID-19 Challenges
The first step was reinstating a regular fitness schedule. Thanks to The Clare's in-house channel, Emily began teaching live in front of a camera, and residents tuned in daily to follow along from the comfort and safety of their apartments. They could check out sanitized equipment to use for their workouts, as well.
"We wanted to make sure that we're offering the same caliber of classes that we were before," Emily says.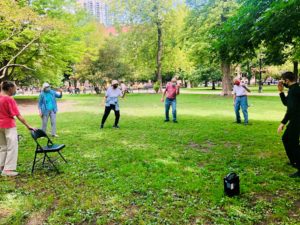 Since the onset of the pandemic, residents Jack Jennings and Steve Molinari have tuned in to the fitness classes from the comfort of their apartment. They appreciate the variety of exercises and stretches, as well as the set schedule they can follow.
"We look forward to it as the start of our day," Steve says. "We call it 'Emily at 9,' and it really grounds us."
Resident Frank Caravette also regularly attends the fitness classes via his television, and he especially appreciates the convenience. He keeps up with a personal trainer twice a week, along with physical therapy, but he took up the classes amid the pandemic when the Fitness Center closed initially.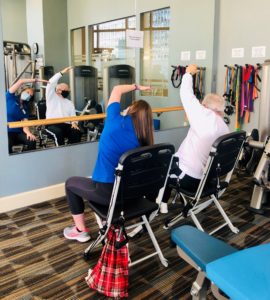 "If I don't exercise, I slow down," Frank says. "The exercise becomes important for that reason."
Given that Emily would usually interact with and check in on residents as they took her classes or went to the Fitness Center, another important step was figuring out how to engage with residents. She delivered handouts with exercises and promoted games like Healthy Habits BINGO, where she would call out a square at the end of each class to gauge how active residents were.
Most important, though, was simply connecting.
"We made bi-weekly phone calls to every single resident to ask them how they were doing and if they needed anything, even if it wasn't fitness-related," Emily says. "Many of the residents were lonely, and there were times where we have had to be that voice of encouragement, saying, 'We will get through this. Just hang tight. Whatever you need, we are here to support you.'"
The first few weeks were the hardest, by far, Emily says. But creativity and dedication drove engagement. Throughout the month of May, she celebrated Themed Fridays, in which she would dress up for different decades and teach a dance as part of that day's class. She distributed flower growing kits to give residents something to take care of while they also took care of themselves. And she promoted challenges that encouraged residents to be competitive with each other and with themselves.
"We did a sit-to-stand challenge, for example, and we had more participation than we ever have in previous years," Emily says. "You won't find the programs we offer outside of The Clare."
Reopening The Clare
In recent months, The Clare has slowly loosened certain restrictions put in place in the early days of COVID-19. Small groups of residents can attend in-person classes, which are still broadcast through The Clare's in-house channel, as well. Masks are required, and participants are encouraged to use their own exercise equipment. Pleasant Chicago weather has allowed residents to enjoy the likes of Tai Chi in the park, too.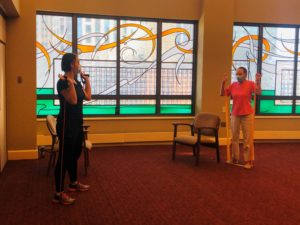 Resident ML Karth has been an avid participant in fitness classes since they restarted, joining daily strength and cardio sessions as well as weekly Tai Chi, now available for small groups indoors. The offerings are wonderful, she says, and they're keeping her moving despite these difficult times.
"Otherwise, I'd sit like a log!" she jokes.
The Fitness Center and Pool have also reopened with rules and regulations in place. Only four people are allowed in the Fitness Center at a time, and just one person can exercise in the Pool at a time. In both locations, frequent sanitation occurs, and reservations must be made in order to take advantage of the amenities.
"Residents are appreciative of these protocols, because they know that if we have COVID-19 cases, everything can go backwards," Emily says.
Personal training has continued throughout the pandemic, typically taking place one-on-one in resident apartments and now in the Fitness Center, as well. Over the months, the number of residents partaking in personal training has increased significantly as they sought out new ways to get active.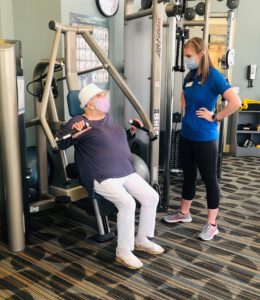 Resident Laurel Blau, for example, started personal training with The Clare at the end of March. Now, she spends three afternoons in the Pool and two afternoons in the Fitness Center in an effort to maintain her health.
"I think exercise is the most important thing you can do to maintain wellness," Laurel says.
Everything has been an adjustment, and flexibility has been key in providing residents with wellness and fitness programming throughout these unprecedented times. Overall, residents of The Clare have continued to reap the benefits of an on-site fitness team, all while remaining healthy and safe.
"I could not speak any more highly about what has happened here at The Clare to make sure that our residents are able to live as fully as pre-COVID," Emily says. "We have done everything we possibly can to keep our residents safe and healthy, and we will continue to do so as long as necessary."