The Clare Named Among the 6 Best Memory Care Facilities in Chicago
The Clare has been deemed one of the six best memory care facilities in Chicago in 2020, according to MemoryCare.com.
The ranking identifies the top memory care communities in Chicago based on location, access to experts, facility features and amenities. MemoryCare.com, a comprehensive resource for caregivers and older adults living with memory impairment, completed hands-on research and compiled online reviews from residents and families to make their final decisions.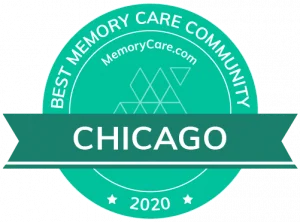 "We are honored to be named one of the best memory care communities in Chicago," says Monica Rusboldt, Administrator of The Terraces at The Clare. "We prioritize the well-being of our residents above everything else. This recognition demonstrates that our quality of care resonates and is successful."
Alzheimer's disease, along with other forms of dementia, is a serious concern in adults over the age of 65. This is especially true in cities like Chicago, where the senior population is on the rise. In fact, Chicago's senior population grew by 11.4% between 2013 and 2017, according to census data. Deaths caused or partly caused by Alzheimer's disease rose 34.7% within that same timeframe, MemoryCare.com reported.
This places memory care communities like The Clare at the forefront of the conversation.
"In addition to providing a safe environment, memory care programs seek to delay or halt cognitive decline while providing the opportunity for a social, independent lifestyle," MemoryCare.com stated.
Likewise, memory care facilities are crucial to managing behavioral problems and facilitating the highest possible quality of life.
At The Clare, our specially trained professionals take time to learn the history of each new resident and foster a nurturing relationship. We tailor memory support programs to individual needs, with an emphasis on consistent schedules, engaging activities and a safe environment. Our mission is to enhance the lives of those who call The Clare home. What's more, our team also strives to reassure family members who trust us with their loved ones.
The Terraces at The Clare provides Assisted Living, Memory Care, Skilled Nursing and Rehabilitation.