Continuing Care vs. Life Care: Understanding the Difference
For most adults, there comes a time when maintaining a large house no longer makes sense. Kids have grown up and moved out, and the spacious home that once seemed necessary and practical has become a burden, with regular cleaning and maintenance draining hours from each day, and thousands of dollars from your retirement savings.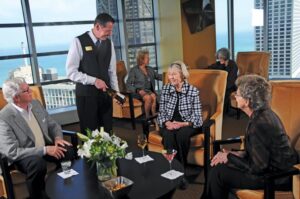 Continuing care and life care communities offer the opportunity to reclaim the vibrant retirement lifestyle you desire, but determining the best community for you and your needs can also be challenging.
What is the difference between continuing care and life care? And which is better suited to your current lifestyle and future plans? We answer these questions every day. Here's what you need to know.
Life care is a type of continuing care retirement community
Continuing care retirement communities (CCRCs) have gained in popularity during recent years. In short, they offer a stable pathway for aging and future health-care needs. CCRC residents enter communities as independent living residents but enjoy access to on-site health care—including assisted living and memory care—should the need for such services ever arise.
For couples moving together into a CCRC, the community ensures that, if one spouse develops the need for health-care services, the other will not need to move closer to health-care facilities or manage frequent long-distance trips for exceptional care. This convenience greatly simplifies care and avoids uprooting spouses from their social networks at a time when they need them most.
CCRCs offers several types of financial agreements, each providing a unique set of benefits to residents. Type A, or Life Care agreements, include all potential health-care costs as part of the initial contract, which includes housing, services and amenities.
Not every CCRC offers the comprehensive benefits of Life Care
A common misconception is that every CCRC includes the comprehensive benefits of a Type A or Life Care agreement. This is not the case, and it's one of the most important distinctions a potential resident must make when considering a community.
For example, Modified (Type B) agreements offer lower upfront deposits and monthly fees but also have limitations on covered long-term care services. Other continuing care contracts cover a range of offerings, with some simply providing pay-as-you-go access to health care services.
Only life care provides predictability and stability when it comes to long-term care costs. This offers peace of mind to residents and their children.
Some CCRCs do not guarantee access to on-site health-care services—even when paying out of pocket
Choosing a CCRC agreement that does not cover all health-care costs indicates a willingness to take on some financial liability for health-care expenses. However, be aware that certain agreements, such as Type D (Rental) and Type E (Equity) agreements may not guarantee access to on-site health-care services.
This means that, even with the financial resources, you may still need to seek health-care services located at other facilities, or even in other cities. If you plan to live at a CCRC to avoid potentially time-consuming travel, make sure your financial agreement guarantees access to on-site health care.
Which CCRC agreement is right for you?
One pearl of wisdom that comes with age is recognition that personal relationships and time with friends and family are of the highest importance.
This sage perspective is one of the strongest arguments not just for choosing a CCRC but for choosing a Life Care community.
Life Care removes worry, doubt, and risk, replacing those stressors with the freedom earned from a life well lived.
And that benefit, we believe, is priceless.