The Clare Celebrates National Senior Health and Fitness Day
National Senior Health and Fitness Day takes place on the last Wednesday in May each year, and is the nation's largest older adult health and wellness event.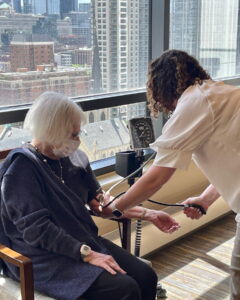 This year, rather than limiting it to a single day, The Clare celebrated with a week of various activities geared toward all aspects of wellness.
"We decided that extending the day into a week filled with events that hit on physical, functional and emotional wellness would be the best way to expand our residents' notion of what it means to be healthy," says Emily Delaney, Director of Resident Experience at The Clare. "We also wanted to showcase the comprehensive wellness offerings we have in the community."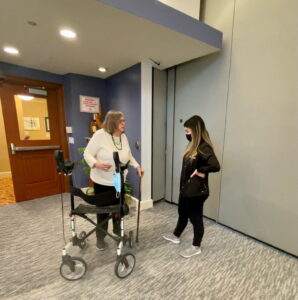 The Clare's celebration kicked off with a blood pressure clinic hosted by the community's Wellness Nurse Navigator, who took readings and provided informational materials to those who participated. Next up was an assistive device tune-up workshop led by The Clare's Therapy Manager and Fitness Manager, who worked with residents to ensure they are using their walkers, canes or rollators in the most effective way possible.
Mental health was also a focus during the weeklong celebration. Ann Marie Downing, owner of Heart Wise Relationship Coaching, visited The Clare to present on the power of saying no and how to prioritize self-care through the aging process. The week ended with a smoothie social, where residents had the opportunity to taste different smoothies curated to meet their bodies' needs following their morning workout.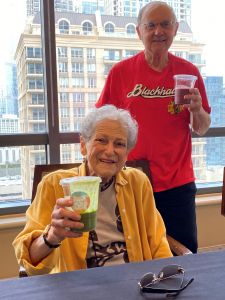 "Residents appreciated the creativity and educational components of each event," Emily says. "They were able to see collaboration between several departments at The Clare and the vital services they provide."
Overall, the goal of National Senior Health and Fitness Day is to promote wellness among older adults. With a week of wide-ranging activities, The Clare certainly achieved that goal.
"If we can spotlight senior health and fitness for a week and provide multiple layers of education, the hope is that it will have a lasting impact for our residents," Emily says.