Resident News: Sallie and Bruno's long history of philanthropic giving
A state-of-the-art outpatient surgery center now lives at the corner of Taylor and Wood Streets on the University of Illinois at Chicago's campus, thanks mainly to an incredibly generous donation from The Clare residents and philanthropists, Sallie and Bruno Pasquinelli in 2019. With their sizable donation to kick-start the funding and build of a new medical center, it's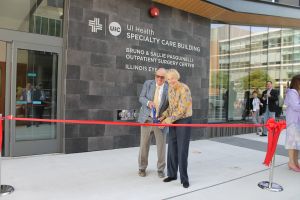 only fitting that the building exterior features the name "The Bruno and Sallie Pasquinelli Outpatient Surgery Center." The center will welcome physicians and other healthcare professionals from various medical specialties to host their outpatient procedures to offset the surgical program that UI Health has steadily grown over the last few years, making surgical space hard to come by and scheduling planned operations stressful for patients and surgeons alike.
Sallie and Bruno have a long history of philanthropic giving, specifically to UIC's College of Medicine and the University of Illinois Hospital, and supporting scholarships for university students. Bruno, a Chicago Native, was born at Mother Cabrini Hospital. His roots in the neighborhood where the surgery center is now built run very deep. His pride and connection in the Italian-American neighborhood are only made stronger by his and Sallie's name outfitting one of the newest buildings on the campus. "I have come full circle…To have the Pasquinelli name on a building means the world. We hope our family and children will find inspiration."
On September 14, 2022, a ribbon-cutting ceremony was held to celebrate the center's opening. Bruno and Sallie were beaming with pride and enthusiasm as they saw their vision come to life while walking through the building with their family and close friends. The center's third floor, which hosts eight operating rooms, some of which include state-of-the-art robotics and massive computer monitors, was met with many audible gasps as the group toured the impressive space. UIC offered many words of thanks to the Pasquinelli's and made sure to emphasize what their generosity has made possible. The new center has already impacted many lives and will continue for years to come.
Go to Article