The 2017 Guide to Downtown Chicago Farmers Markets by Day of Week
It may surprise you that living in a big city like Chicago offers you the freshest fruits and veggies and high-quality homemade goods. The abundance of farmers markets in Chicago means locally sourced goods at reasonable prices are easy to find. Knowing where to stock up lets you keep a farmhouse table while enjoying the best of city life.

Discover the best downtown Chicago farmers markets on any day of the week with our handy guide, and fill your home with the freshest local produce whenever you go shopping!
Monday
LOYOLA FARMERS MARKET
Where: 6550 North Sheridan Road
When: June 5–October 16, 3–7pm (2:30–6:30pm in October)
Website: blogs.luc.edu/farmersmarket/
Opened in 2011, the Loyola Farmers Market aims to increase access to locally grown, affordable foods for Chicago residents. While fresh foods are a big part of the picture, the farmers market also provides a public gathering place where the Chicago community can relax and learn. The market supports small growers that practice sustainable agricultural practices.
Tuesday
SOAR FARMERS MARKET
Where: 220 East Chicago Avenue at the Museum of Contemporary Art Plaza
When: June 6–October 24, 7am—2pm
Website: soarfarmersmarket.com/
The SOAR (Streeterville Organization of Active Residents) is a farmers market that provides local goods, including cheeses, fruits, vegetables, flowers, and baked treats. Small farm owners sell specialty goods during the summer months to promote sustainable, organic practices for food. Look for popular vendors like Stamper Cheese, LaProvence Bakery, River Valley Farms, Lehman Orchard, and Lyons Fruit Farm at the SOAR Farmers Market.
FEDERAL PLAZA FARMERS MARKET
Where: Adams Street & Dearborn Parkway
When: May 16–October 31 (no market on July 4), 7am–3pm
Visit the Federal Plaza Farmers Market and grab a quick treat at the popular Do-Rite Donuts food truck, which along with traditional donut flavors also serves the buttermilk donut, a local favorite. For lunch, try the ever-evolving modern Thai menu at the Rock 'n Roll Noodles food truck. If fresh produce is what you are after, you can find a wide assortment of local goods: farmers bring fresh peas, cauliflower, blueberries, mushrooms, wildflowers, and many other homegrown items, depending on the season. Although the Federal Plaza Farmers Market has less than 20 vendors at a time, it is a popular spot for Chicago residents that live or work near the Loop.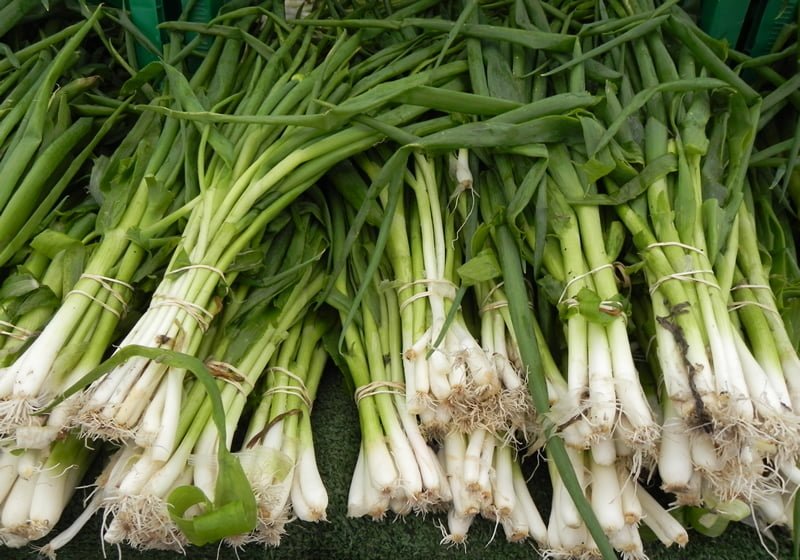 COLUMBUS PARK FARMERS MARKET
Where: Congress Parkway & Central Avenue
When: July 11–September 12, 2–7pm
The Columbus Park Farmers Market sources the best flowers, fruits, and vegetables the Midwest has to offer. Enjoy seasonal vegetables like asparagus, mushrooms, lettuce, spinach, peas, sprouts, and tomatoes. Even sweets like cookies and cakes are made using locally sourced eggs and hand-churned butter. Snack on homemade goodies and mingle with Chicago's eco-friendly crowd at the Columbus Park Farmers Market.
LINCOLN SQUARE MARKET
Where: Lincoln & Leland Avenues (at Lincoln/Leland/Western)
When: June 6–October 31 (no market on July 4), 7am–1pm (also on Thursday)
Website: www.lincolnsquare.org/farmers-market
Lincoln Square Market is the perfect place for fresh produce on your way into work on Tuesday or on your way home on Thursday. Hosted at the Lincoln Square Ravenswood Chamber of Commerce, the market features plenty of fruits and vegetable vendors, artisan cheese vendors, a mushroom stand, flowers, and food carts. After picking your fresh produce, satisfy your sweet tooth with a donut from Dinky Donuts or a crepe from Gotta B Crepes.
Wednesday
GREEN CITY MARKET
Where: 1817 North Clark Street
When: May 10–October 25, 7am–1pm  (also operates on Saturdays)
Website: www.greencitymarket.org/
In addition to local produce and homemade snacks, visitors of the Green City Farmers Market can attend cooking demonstrations hosted by the best chefs in Chicago. Well-known restaurants that participate include Carnivale, Yusho, and Perennial Virant. The goal of the market is to educate, promote, and unite local farmers and residents who wish to know more about their food sources.

All farmers that participate in the Green City Market undergo rigorous checks to ensure that they follow the strict eco-friendly guidelines the market upholds. In addition, these farmers believe in treating animals humanely and preserving the land for future generations. These environmental practices make the Green City Market a trustworthy place to buy produce and locally sourced items.
Thursday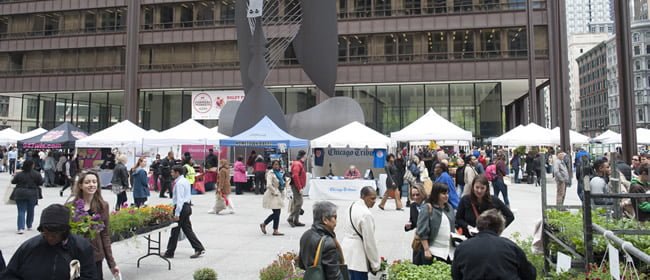 DALEY PLAZA FARMERS MARKET
Where: 50 West Washington Street
When: May 11-October 26, 7am-3pm
The Daley Plaza boasts the longest running farmers market in Chicago. With free admission, a central location, and a beautiful fountain at the center, the Daley Plaza is one of the most popular farmers markets in the city. From fresh flowers to homemade cakes, there is something for every taste. Try perfectly ripe produce from Nichols Farm and Orchard, or sample some of Wisconsin's famous cheese at Brunkow Cheese. No matter what you are in the mood for, the Daley Plaza Farmers Market will serve up prime examples of Chicago's fresh food scene.
LINCOLN SQUARE MARKET
Where: Lincoln & Leland Avenues (at Lincoln/Leland/Western)
When: June 8 – October 26 (no market September 7th), 4pm – 8pm (also on Tuesday)
Website: www.lincolnsquare.org/farmers-market

Friday
FRESH BEATS AND EATS MARKET
Where: 2744 West  63rd Street
When: May 19–October 20, 2–6pm
Website: www.imancentral.org/take-action/freshbeatsandeats
Fresh Beats and Eats Market began in recent years on the Southwest Side to counteract food deserts by offering high-quality, affordable produce to residents while educating people about how food is grown and the overlap of health and nutrition. In addition to the many produce and flower vendors, try Sweet Beginnings for pastries, Imani's Original for pies, or Canaan Fair Trade for interesting imports from Palestine.
Saturday
61ST STREET FARMERS MARKET
Where: 6100 South Blackstone Avenue
When: May 13–December 16, 9am–2pm
Website: experimentalstation.org/market/
Straddling the Hyde Park and Woodlawn areas of Chicago, this farmers market offers local produce, eggs, cheeses, meats, and prepared products from nearby farms. Although the market lineup changes every year, favorite spots for residents of Chicago include Ellis Family Farms, Organic Bread of Heaven, and Stamper Cheese Company. The 61st Street Farmers Market also provides cooking demos, live music, and a "Market School" series that showcases food experts who share their knowledge about sustainable living.
LINCOLN PARK
Where: Armitage Avenue & Orchard Street
When: June 3–October 28, 7am–1pm
Sunny afternoons at the outdoor Lincoln Park Farmers Market are a summer favorite for Chicago residents. Taste local goodies made by more than 50 farmers and vendors from the area. Visitors to the Lincoln Park Farmers Market gather every Wednesday to see free cooking demos from Chicago-based chefs. During the winter months, the market moves to the nearby Peggy Notebaert Nature Museum.
DIVISION STREET MARKET
Where: Division St. & Dearborn Pkwy.
When: May 13–October 28, 7am–1pm
Division Street Market is a much-loved market complete with food carts, flowers, and produce. Some popular vendor items include artisanal cheese, baked goods, and locally made smoked meats. Pick up flowers from North Wither Gardens, produce from Lane's End Farm, all while enjoying local pastries or crepes.
GREEN CITY MARKET
Where: 1817 North Clark Street
When: May 10–October 25, 7am–1pm (also operates on Wednesdays)
Website: www.greencitymarket.org   
PRINTERS ROW MARKET
Where: Dearborn Street & Polk Street
When: June 17–October 28, 7am–1pm
This cute neighborhood market features several produce vendors, some food carts, and occasionally dog treats or flowers. If you're in the area, it's a wonderful place to pick up great produce while catching up with the locals.
Sunday
LOGAN SQUARE FARMERS MARKET
Where: 3107 West Logan Boulevard
When: May 14–October 29, 10am–3pm
Logan Square Farmers Market is a food market that also functions as a weekly community gathering spot all year round. The market allows farmers and small businesses to get acquainted with locals while building a strong environmental backbone in the community. Vendors work to bring fresh, organic food into Chicago at prices every income level can afford. It has fostered a strong sense of community in the Logan Square area and is a must-see for Chicago farmers markets.
MAXWELL STREET MARKET
Where: Desplaines Street & Taylor Street
When: Year round, 7am – 3pm
The Maxwell Street Market is a Chicago tradition of bargains and bargaining with an international flavor. The market offers an eclectic mix of merchandise—from tools to tires, plus fresh produce, furniture, clothing, rare finds and collectibles—and some of the best Mexican and Latin street food in Chicago.

Find the best in local fruits, vegetables, flowers, and artisanal goods during your next visit to Chicago by checking out one of these farmers markets located in the downtown area. These environmental hubs provide an inexpensive yet entertaining way to spend a free afternoon, and your shopping supports small businesses based in the Chicago area.