The Clare Earns Top Workplaces Recognition From Chicago Tribune
The Clare has been awarded a Top Workplaces 2021 honor by The Chicago Tribune Top Workplaces, one of only 200 companies in the Chicagoland area to earn the title.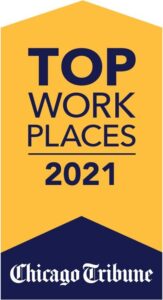 The recognition is the direct result of employee feedback gathered through a third-party survey administered by employee engagement technology partner Energage, LLC. More than 80 employees responded to the anonymous survey, which measures 15 culture drivers, such as alignment, execution and connection, among others.
"This is one of The Clare's most significant accomplishments throughout our history, especially considering that we're a health care provider continuing to navigate the COVID-19 pandemic and the overall state of labor today," says Kyle Exline, Executive Director at The Clare. "I'm incredibly proud of and grateful for our employees."
A record-breaking 295 companies completed the survey for 2021, as compared with 185 in 2020. This was the first year The Clare sought nomination for inclusion on the Top Workplaces list.
Overall, The Clare ranked 89 among small organizations with fewer than 250 employees.
"We always say that our greatest asset is the people who work here," Kyle says. "The fact that our employees recognize The Clare as a place where they enjoy working only adds to the positive, supportive atmosphere here. It's a great community to live and work."
The award comes as The Clare is now 20 months into the pandemic that has severely impacted seniors and retirement communities. Through the countless policy changes, service interruptions and innovative approaches, the employees at The Clare remained steadfast. Their commitment and care have been tremendous factors in the community's success in warding off the virus and protecting the residents.
"Taking care of our employees has been a priority throughout the pandemic, and their health and safety is of paramount concern," Kyle says. "This award tells us that we're still moving in the right direction during unprecedented times."