Urban Retreats: The Best Parks in Chicago

First, a caveat: We can't cover every park in Chicago in a single, or even twenty, posts. The Chicago Park District manages some 570 parks, as well as 50 nature areas and 31 beaches. In all, it's responsible for taking care of more than 8,000 acres of space—about ten times the acreage of New York City's Central Park.
The scale of Chicago parks makes it easy to see how living downtown in a bustling urban area can actually provide greater opportunity to explore and enjoy the outdoors. The urban retreats that comprise the Chicago Park District are an essential part of the quality of life for downtown residents.
Below we've made a selection of some of the best parks in Chicago, from the biggest, well-known parks to some lesser-known gems, as well as Maggie Daley Park, one of the newest outdoor spaces in the city.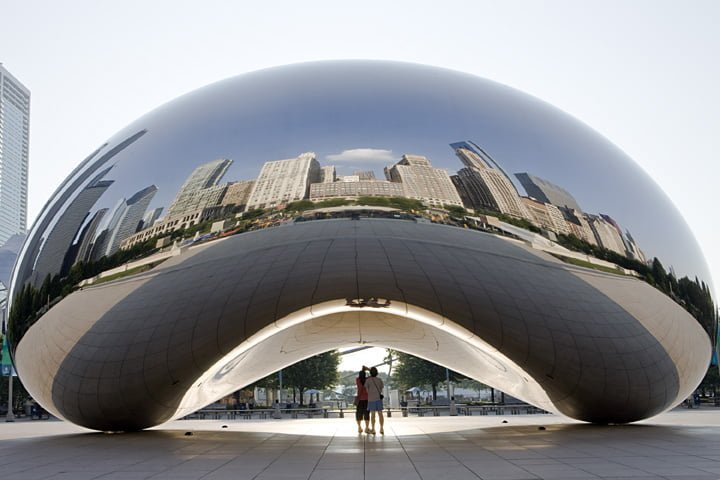 Grant Park
Grant Park, one of Chicago's first parks, is also one of its most famous. Regularly expanded since 1835, the park is named for Ulysses S. Grant, Civil War hero and eighteenth President of the United States.
It now includes 319 acres, with open spaces regularly hosting annual events like the Taste of Chicago and the Grant Park Music Festival, and also serving as a centerpiece for singular events, from the Chicago International Aviation Meet more than one hundred years ago to an outdoor mass celebrated by Pope John Paul II in 1979 to the victory speech given by President Barack Obama on election night in 2008.
Still, the park is about far more than open space. It is the anchor that holds together many of the city's most prominent institutions, including the Field Museum of Natural History, Shedd Aquarium, Art Institute of Chicago, and Adler Planetarium. Millennium Park, home to outdoor concert space, Cloud Gate, and innovative landscape design, is located within Grant Park.
If you're just visiting Chicago, Grant Park and its venues are must-see items on your itinerary. But if you live here, Grant Park is a weekly if not daily pleasure. It is indeed "Chicago's front yard."
Jane Addams Memorial Park
Some parks are known for their breadth or rich cultural activity, and others, like Jane Addams Memorial Park, offer simplicity and the opportunity for reflection. Jane Addams Memorial Park was officially designated in 1996, but the land it occupies was first set aside in 1914–16. Originally, the waterfront space was a combination park and municipal pier.
This early use became the source of one of Chicago's most famous attractions, Navy Pier. The municipal pier was used for naval training during World War I and renamed in honor of those naval trainees in 1927. Today, the iconic Navy Pier is the site of shopping, eating, a Children's Museum, and a Ferris wheel.
However, the tranquility of the adjacent Jane Addams Memorial Park remains. The park provides walking and jogging paths and the opportunity to learn more about the life of Addams, an early social reformer who won a Nobel Peace Prize for her efforts. Among her achievements were the creation of the first juvenile-court law and establishment of an eight-hour work day for women.
Milton Lee Olive Park
Just east of Jane Addams Memorial Park is Milton Lee Olive Park, which lies between that park and the James W. Jardine Water Purification Plant. Milton Lee Olive Park offers a difficult decision for visitors: to take in the expansive waterfront views or enjoy the city skyline. Thankfully, the winding walking paths provide enough curvature and shift in direction to enjoy plenty of both.
Milton Lee Olive Park also includes five circular fountains, all connected by the park's pathways. Each fountain is a different circumference and located at a different height—subtleties more visible when taking in the park from one of Chicago's many high rises. The project was one of three crafted by famed landscape architect Dan Kiley in Chicago. The other two are the adjacent Navy Pier and the South Garden at the Art Institute of Chicago.
The park is named for Milton Lee Olive, who perished in 1965 in the Vietnam War at the age of nineteen. He became the first African American Medal of Honor recipient of the war.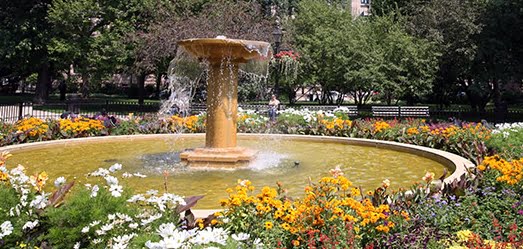 Washington Square Park
We're a bit biased toward this selection, since it's just a couple of blocks from our building. Washington Square Park is a three-acre gem filled with flowers and centered on a fountain, with shaded pathways and benches to enjoy a respite from fast-paced city life.
Creation of the park dates to 1842, when the American Land Company donated the space to the city for the purpose of creating a public park. The park became an immediate magnet for large, elegant homes and churches. Changes in the fate of the downtown area resulted in the initial park being razed then rebuilt in the early 1900s. An additional restoration in the late 1990s brought it back to a version more reminiscent of its earliest iteration.
Maggie Daley Park
Maggie Daley Park, while officially part of Grant Park, represents Chicago's latest major investment in downtown public space. A staggered opening of the park continued through early 2015. The park has a unique focus on providing activities for all ages, especially children.
From an ice-skating ribbon that winds through the grounds in winter, to an indoor and outdoor field house with year-round activities like rock climbing, to an extensive playground with bridges and slides, the park promises a full afternoon of active entertainment.
Chicago's commitment to green space is a large part of its allure. Residents are not required to choose between a suburban residence with wide-open spaces or an urban home with a vibrant culture and compelling architecture—they enjoy both. So the next time you come to Chicago, or the next time you step out your front door, make the most of the opportunity to have it all.