Virginia Wolff: Magic Moments as a Chicago Wedding Florist
Interacting with people on some of the most joyous and inspiring days of their lives has been a major perk for Clare resident Virginia Wolff throughout her career.
As an event florist who was contracted for more than 1,500 weddings, along with galas, fundraisers and other momentous occasions, she's been blessed with that opportunity time and again.
Working with flowers wasn't something Virginia expected to do with her life, though. She and her husband had lived on a cattle ranch in Wyoming for 13 years,. She would ride out with the cowboys and take part in what was happening day to day. So when they returned to Chicago, she found she didn't have much to do to fill her time.
That's when a friend asked Virginia to do the flowers for her daughter's wedding. Virginia immediately agreed.
"I had no idea what I was doing, but it just sounded like something that could be fun," she says.
But she quickly felt as though she was in over her head. Her friend was Jewish, and she had never been to a Jewish wedding, so she wasn't sure what that entailed. She resolved that she was going to tell her friend that she couldn't do it, but her husband convinced her otherwise. She couldn't do that to the family, pull out of the wedding at that late date, she recalls him telling her. So she buckled down and got it done.
"To this day, I'm not entirely sure how I figured it out," she says.
After that first wedding, people started calling her. They said they heard about a really unusual wedding she had done and wanted her to do the flowers for theirs.
"It was unusual because I didn't know what the usual was," Virginia says.
The Beginnings of a Business
Virginia ran with it. She went to school to learn how to do corsages, bridal bouquets and the like. She put together a team of talented professionals. She rented out a large warehouse in Chicago's River West neighborhood.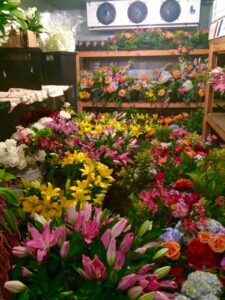 She turned her hobby into a business as a Chicago wedding florist. And so Virginia Wolff Inc. was born.
Each event her company was contracted for proved to be a puzzle for Virginia to piece together. Which flowers will be available on a given date? Which will be the most beautiful at that time of year? What color flowers will look best with the bridesmaid dresses? How can all of this fit into a given budget while still honoring a bride's dreams?
"At the end of the day, I'd be tired, but just exhilarated," Virginia says. "There's something very wonderful about seeing everything come together."
There's no true explanation as to where her inspiration and creativity for each event stems from, she says. Usually, a vision simply takes shape based on all the information collected from her clients.
"Often, before I go to sleep at night, I think about what the bride has told me that she wants and I know where it's going to be – there are always constraints, because all the hotels and clubs have pluses and minuses you have to work with," Virginia says. "And then, when I wake up in the morning, before I open my eyes – because once I open my eyes, it's all over – I just lie there, and the ideas come to me."
And while every wedding and event involved different arrangements, styles and colors, Virginia's garden-y style of floristry typically made an appearance.
"I like an abundance of flowers, so that it looks really lush and full and pretty," she says.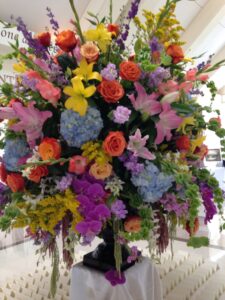 The Magic Moment
The great reveal of an event made the months, weeks and even minutes leading up to it entirely worth it, Virginia says.
"There's a special moment at each party you do – I used to call it the magic moment," Virginia says. "It's when everything is done. The table is set. The flowers are beautiful. The candles are lit. The band starts playing, and they open the doors to the ballroom. And the people outside – they just gasp. That to me was so rewarding."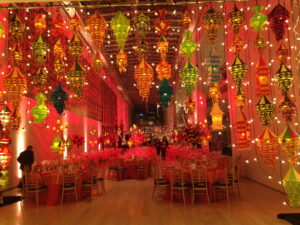 Another magical aspect of her business was that it afforded her the opportunity to meet many public figures she would never have had the chance to meet otherwise.
During former President Barack Obama's campaign for a second term in office, Virginia did the flowers for one of his fundraising events in Chicago, having to contend with the Secret Service inspecting every bucket and box of flowers they brought in. Virginia Wolff Inc. was featured on an Oprah segment with Martha Stewart about weddings. And she also worked on the weddings for the son of Supreme Court Justice Ruth Bader Ginsburg; the daughter of director, producer and screenwriter Martin Scorsese; the granddaughter of longtime American mobster Tony Accardo; and violinist Rachel Barton Pine.
The latter, Virginia says, is perhaps the most inspirational and moving wedding she has been a part of. That's because Barton Pine lost half of her left leg and mangled her right foot in an accident with a Chicago commuter train in 1995 at the age of 20. Yet she eventually learned to walk with a prosthetic leg.
"She was able to walk down the aisle at Fourth Presbyterian Church and dance at her wedding, and everyone was in tears," Virginia says.
Connections she made throughout her career have even resurfaced with her move to The Clare.
"The first night I was here, I walked into The Grafton and I saw the father and mother of one of my brides sitting there," Virginia says.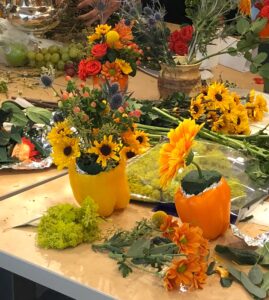 The newly renovated studio at The Clare has also provided an outlet for Virginia to continue working with flowers after her 37-year career as a Chicago wedding florist and share her craft through demonstrations, classes and more. During a Thanksgiving flower arranging workshop led by Virginia, for example, garden shears were flying and flowers and stems coated the table as residents created their own floral decorations. Otherwise, she seeks smaller jobs for charities and friends in an effort to keep putting her experience to good use.
"I'm very blessed to have had such an interesting and rewarding and beautiful life with flowers," she says.