7 Reasons Why The Clare is a Top Luxury Retirement Community
Top Luxury retirement communities are undoubtedly having their moment across the nation and in Chicago alike. Seniors want more from their later years, particularly in terms of enriching activities, upscale amenities and unparalleled location. They refuse to settle for less than the absolute best.
That is why The Clare is an ideal destination for seniors. The 53-story high-rise in Chicago's Gold Coast neighborhood continuously proves itself a top luxury retirement community, always pushing the envelope for the residents it serves.
Reasons why The Clare ranks as a top luxury retirement community:
Lifestyle
Dining
Activities
Amenities
LifeCare
Location
Peace of Mind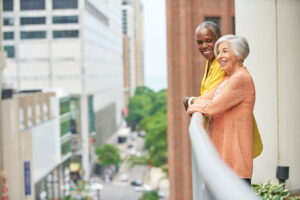 Lifestyle
Retirement at The Clare can be as active or relaxing as you wish. The Clare promises a lifestyle that is entirely adaptable to your desires. Fine dining, luxury apartments, stunning views and world-class service characterize the community. It's up to the residents to make of it what they wish.
Dining
With four unique dining venues within The Clare and access to Chicago's countless restaurants, residents enjoy a range of culinary opportunities when they choose to retire here. Savor the innovative cuisine developed by Executive Chef Hagop Hagopian on a daily basis, or make a reservation at a neighborhood hotspot, like Bistronomic or NoMI. Whatever the selection, one thing is clear: there are no limits to the memorable dining experiences available for everyone who calls The Clare home.
Activities
The Clare focuses on all aspects of wellness in the activities planned for residents. Classes and lectures from experts and professionals emphasize residents' desire to stimulate their minds. Various fitness classes promote overall physical health. Social groups foster genuine connections, and outings encourage exploration. Residents have complete control over the activities in which they do or do not participate, allowing them to create a schedule that accommodates their specific wellness needs.
Amenities
Resident satisfaction is a priority at The Clare, as evidenced by the many amenities on offer within the community. Residents can take advantage of a full-service fitness center, an abundantly stocked library and a convenient computer area. And the likes of concierge services, transportation, housekeeping and maintenance eliminate unnecessary stress from residents' lives. The best part is, their needs are handled with care at every turn, further solidifying The Clare as a luxury retirement community of choice.
LifeCare
A significant benefit of retirement at The Clare is LifeCare, which ensures access to long-term care if the need arises at a predictable cost. LifeCare guarantees care at The Terraces at The Clare, which provides assisted living, memory support, skilled nursing and rehabilitation services.
Location
Perhaps most noteworthy about The Clare is its incredible location. The community is a gateway to all the best that Chicago has to offer. Lake Michigan, Michigan Avenue's Magnificent Mile, museums, theaters, galleries – all are within reach upon retiring in Chicago at The Clare.
Peace of Mind
The Clare stands as a top luxury retirement community, but above all else, it provides residents with peace of mind. In addition to guaranteed health care as needed at The Terraces via LifeCare, The Clare ensures the health and security of residents in several ways. The Wellness Center, for one, is open daily and serves as a go-to for minor health needs and medical-related questions. What's more, all security officers at The Clare are EMT certified, and they are available 24/7 to respond immediately to emergency situations. Simply put, every concern or worry has been thought of and addressed, which translates to a calm, stress-free retirement experience.
Please call us at 312-784-8015 or simply let us know how we can help by contacting us.