6 Famous Chicago Pizza Places You Need to Visit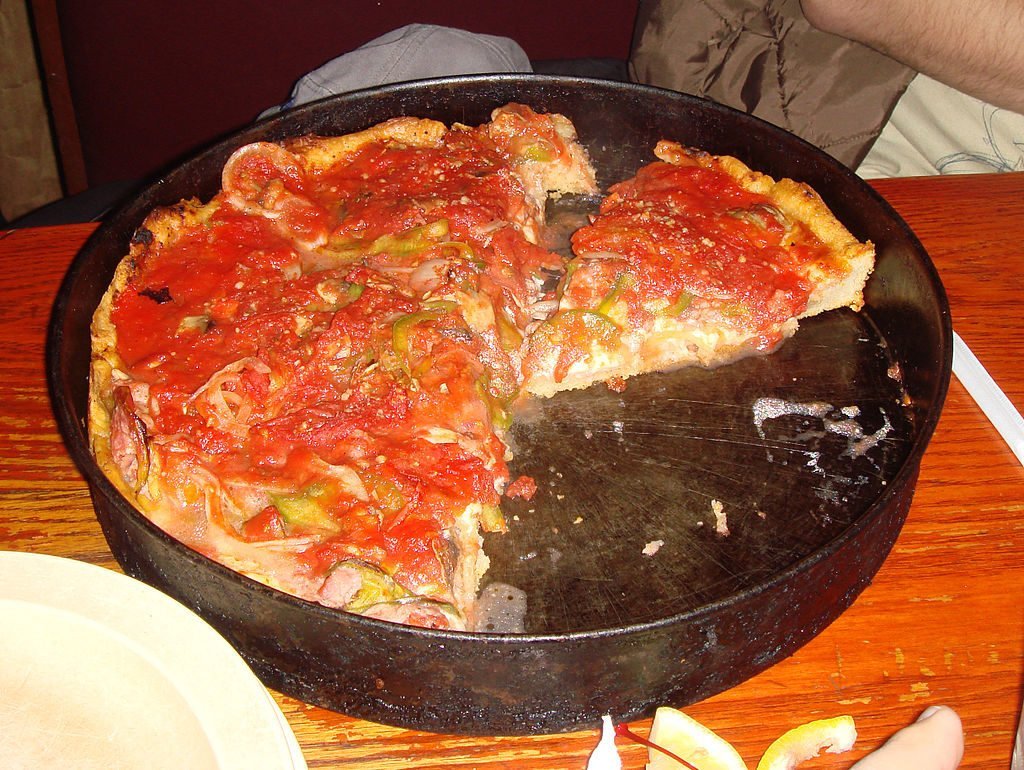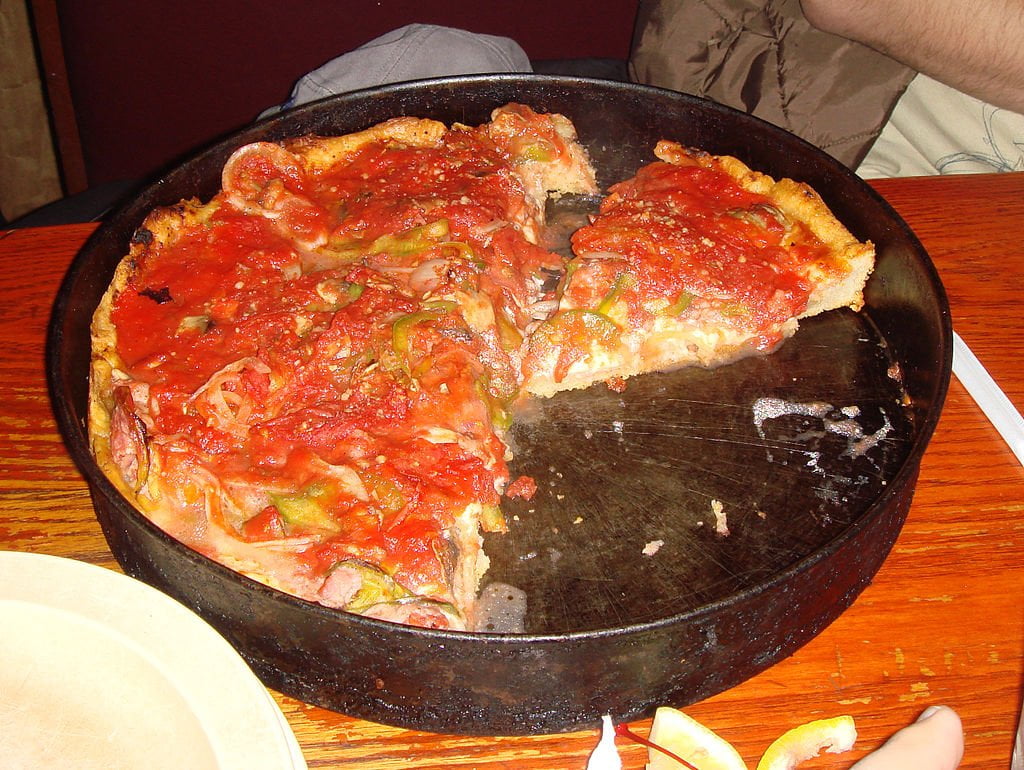 Pizza is personal.
The slice you love can say a lot about where you're from and where you started eating pizza as a kid.
In Chicago, pizza means deep dish, those thick pies once described by the Chicago Tribune as "pizza thick as a sewer lid and almost as heavy." Picking the best Chicago pizza restaurants is a tough ask, and one that should involve thorough field research. The classic deep dish is stuffed with mozzarella cheese and sausage, with each restaurant putting its own spin on the crust and the spiciness of the sausage.
Deep dish, the classic Chicago pizza, is a relatively recent invention. Italian immigrants who moved to the city in the late 1800s and early 1900s prepared pizza in the traditional, thin-crust manner.
That changed in 1943 when Richard Novaretti, who went by Ric Riccardo, and Texan Ike Sewell opened a pizza restaurant. According to most histories of deep dish, Sewell proposed that the restaurant serve a new style of pie.
Pizzeria Uno and Pizzeria Due
Any list of famous Chicago pizza places starts with Pizzeria Uno, the restaurant Riccardo and Sewell opened at Wabash Avenue and Ohio Street. Though Unos is now a chain with locations around the country, its original location is where deep dish was born. Without Unos, there could be no list of the best Chicago pizza restaurants, or at least no deep dish.
Tim Samuelson, the city of Chicago's cultural historian (yes, that's an actual job), spent years trying to figure out who invented the classic Chicago pizza. He wasn't able to settle the question absolutely, but he's confident Sewell, Riccardo and Rudy Malnati, Sr., a former bartender at one of Riccardo's other restaurants, each had some part in creating the first deep dish.
The original Unos, and sister restaurant Pizzeria Due (due is the Italian word for "two"), retain menus that are different from other restaurants in the chain. So start your pizza pilgrimage at the birthplace of the famous dish.
Lou Malnati's Pizzeria
Rudy Malnati, Sr.'s contribution to famous Chicago pizza places extends far beyond Pizzeria Uno. In 1955 his son, Lou Malnati, was sent to manage Pizzeria Due. After Rudy's death, Lou decided to open his own restaurant in Lincolnwood, a northern suburb. The new pizza place opened on March 17, 1971. Lou apparently took great delight in opening his Italian restaurant in a Jewish neighborhood on an Irish holiday. A second location near O'Hare Airport soon followed.
When Lou died in 1978, his sons Marc and Rick took over the business. They're still running it today.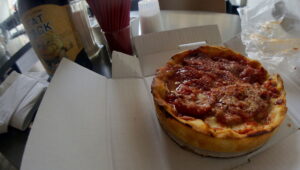 Pizano's Pizza
Rudy Malnati, Sr. also passed the pizza gene on to another son, Rudy Malnati, Jr. In 1991 the younger Malnati launched Pizano's Pizza. The company now has six locations around the city. Donna Marie Malnati, Rudy Sr.'s widow and Rudy Jr.'s mother, makes the pizza dough for the various Malnati's locations each day, working in the basement of the chain's State Street location.
Chicago Reader described Pizano's offering as "much shallower than a Malnati's pie…and the more balanced combination of butter crust, sausage, and tart crushed tomatoes made it less heavy while every bit as tasty."
Chicago Pizza and Oven Grinder
A meal at Chicago Pizza and Oven Grinder comes with some mob-related history. The building sits directly across the street from the site of the notorious St. Valentine's Day Massacre. On Feb. 14, 1929, mobsters affiliated with Al Capone's South Side gang shot and killed five members of James Moran's North Side gang, as well as two other men who were in a car mechanic's garage at 2122 North Clark St.
The home that now hosts the restaurant may have been used as a lookout post by some of Capone's mobsters. The building burned in 1971 and was purchased the following year by Albert Beaver, who restored the building and opened the restaurant.
Gino's East
Sometimes traffic can be a good thing. In 1966 a pair of cab drivers and one of their friends were stuck in a rush hour line. During the wait, they decided that opening a pizza place would get them off the road and into a better career. The rest was history. Like other famous Chicago pizza places, Gino's featured deep dish. And like other spots, it has grown since its founding, featuring 16 locations.
Giordano's Restaurant and Pizzeria
Italian immigrants Efren and Joseph Boglio founded Giordano's on the South Side in 1974. The restaurant claims its deep dish is derived from an "Italian Easter pie" that the brothers' mother made in her home village outside Torino, a city in northern Italy.

The chain has grown into a behemoth, with locations in virtually every corner of Chicago and its suburbs. There are also Giordano's outlets in Minnesota, Indiana and Florida.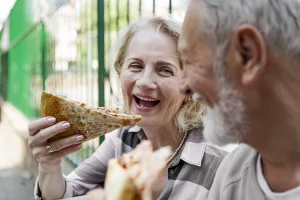 ---
See what dining options we have at The Clare, from pizza to gourmet entrées. Come meet the chef and sample the food. Call (312) 784-8100 for more details.