Halloween in Chicago: Fun for Everyone!
Halloween in Chicago is a holiday that's fun for all ages.
Sure, only children participate in the candy-fest that is trick-or-treating, but that doesn't mean that everyone else should simply sit back and not participate in the Halloween events Chicago offers the whole family.
There are plenty of activities to enjoy in Chicago around Halloween, for kids, their parents, and their grandparents. From traditional activities like bobbing for apples and carving pumpkins to haunted hayrides and dressing up for costume parties, dozens of entertaining ideas make the end of October one of the best times of the year.
Chicago Pumpkin Patch Fun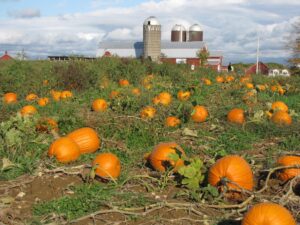 If there is one activity that captures the spirit of autumn in America, it is a trip with the family to the pumpkin patch. This is an outing that has no age limit and is thoroughly enjoyed by all. It is a great way to spend an afternoon in nature while triggering nostalgic memories from childhood. Seeing kids frolicking through the endless rows of bright orange squash is a sight that makes everyone feel like a kid. The quest to find the perfect pumpkin, both large and round, is an adventure that requires attention to detail. No one wants a lumpy pumpkin!
Although most pumpkin patches are found in the countryside, Chicago does a splendid job of setting up small patches throughout the city. This way, everyone can enjoy the spirit of Halloween and head home with a perfectly symmetrical pumpkin. Some of Chicago's best pumpkin patches are in Rainey Park, Lincoln Park, Hale Park, and Wrightwood Park.
If you are, however, able to make it out of Chicago and into the countryside, check out Bengston's Pumpkin Fest 2015. Running from September 26 to November 1, this event will leave you smiling through the New Year!
Halloween Party
What better way to spend your evening than dressing up as your favorite superhero or Hollywood character? Halloween parties aren't just events where you get dressed up. They are fun-filled parties where you can bob for apples, drink hot apple cider, carve pumpkins, and much, much more.
From costume contests and mini haunted houses to candy apples and enough sweets to keep a dentist happy through Christmas, Halloween parties are the perfect option for spending time with the kids and grandkids. Nothing beats spending the evening with the little ones dressed up as cartoon characters as they bounce off the walls from having consumed mountains of sugar.
The Navy Pier offers trick-or-treating on the evening of Friday, October 30, as well as the Saturday afternoon of Halloween. These events are complemented by a double-feature, with a 5:30 p.m. screening of a family friendly Halloween movie, such as E.T. the Extra-Terrestrial, and an 8:00 p.m. screening of a truly scary movie suited for the adult crowd, like Alfred Hitchcock's classic Psycho.
What's even better than a typical Halloween party is one that celebrates Chicago's commitment to the arts. The Halloween Gathering on October 24, hosted by Chicago Cultural Mile, offers hours of engaging entertainment. Interactive family friendly activities, like mask-making workshops and a children's costume parade culminate with an evening parade led by "Creative Spirit Fellows"—a designation the events offers to Chicago's most talented and influential creative minds.
Carving Pumpkins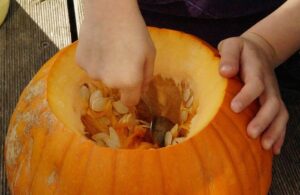 The best part about carving pumpkins, aside from the joy you get from watching a squash become a Jack-o'-lantern, is the fact that it can be done anywhere. The simple pleasure of pumpkin carving is an inexpensive tradition that goes all the way back to seventeenth-century England.
This is a craft where people's creativity can truly shine. From the traditional geometric faces to extravagant designs, there are literally endless ways you can carve a pumpkin. And the best part about it? Gutting the pumpkin, of course.
Nothing recalls Halloween more than the feeling of submerging your hand into the depths of a gooey pumpkin. There really is no other sensation like it. The smell, the consistency, the difficulty of snagging the last few seeds with your slippery fingers. Getting to see the faces of young children as they make a mess with pumpkin guts all over their tiny hands and faces makes it impossible not to smile.
Then comes the hard part: carving the pumpkin with a small pumpkin-carving knife. Sometimes it's hard to believe that the dull, serrated blade with its bright orange handle can even cut through the pumpkin. But as you saw away and your Jack-o'-lantern's face slowly takes shape, you will notice all of your worries just slip away. Your finished pumpkin will become an orange trophy—a proud display of an afternoon well spent.
Do you want to share this wondrous experience with others? Check out the Great Highwood Pumpkin Festival from October 9 to 11 for the ultimate carving experience. This year, the event will try to beat the Guinness World Record for most pumpkins carved in one place. The current record? 30,581. This year's goal? 52,000. Now that's a lot of pumpkin guts!
Halloween should be a special time for everyone, not just little trick-or-treaters. It is the autumn's finest holiday, one that is open for everyone to enjoy, regardless of age. It is a time when the very best features of the season come together to provide wholesome entertainment for the entire family.
So what are you waiting for? Start planning for Halloween in Chicago today. You won't regret it!