Gold Coast Neighborhood Guide
The Gold Coast Neighborhood, bounded by North Avenue, Lake Shore Drive, Chicago Street, and Clark Street, is a district in the northern part of Chicago's downtown. It was founded after the 1871 Great Chicago Fire by some of the city's wealthiest families. Today, some of Chicago's most beautiful homes and buildings are in the Gold Coast district. It is also a destination for shopping, dining, museums, and entertainment. Learn more about the neighborhood and plan your next visit today!
Shopping
The Gold Coast Neighborhood is a premier shopping district in Chicago. Along with the clothing chains such as Macy's, Anthropologie, and H&M, are numerous boutiques such as Independence and Ikarm, where Michelle Obama's fashion advisor started her career. Other shopping options include Pratesi Linens, for linens, and Tea Gschwender, a German tea shop. There are also a number of art galleries including Colletti Gallery and Richard Gray Gallery.
Dining
Many restaurants options are also in the Gold Coast Neighborhood. For lunch or brunch, stop in at Bistrot Zinc for a salad or sandwich. Goddess and Grocer provides a quick breakfast or lunch – try your hardest not to be tempted by their array of delicious sweets. For a fresh, relaxing lunch, go to 3 Arts Club Cafe; the ambiance plus delicious food will make it difficult to leave. For dinner, have a burger or sandwich at Doc B's Fresh Kitchen, find authentic Italian food (since 1995) at Mario's Table, or eat incredible southern-style barbecue at Chicago Q.
Museums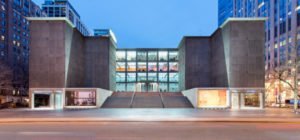 There are three excellent museums in the Gold Coast Neighborhood. The Museum of Contemporary Art Chicago, founded in 1964, hosts a variety of modern artists with both rotating and permanent collections. For architecture, drop in for one of the two weekly tours at the Charnley-Persky House Museum. The building was built in 1892 by Louis Sullivan and his junior draftsman, Frank Lloyd Wright. The Newberry, an independent research library, has a non-circulating collection of books, maps, music, manuscripts, and other works from the last 6 centuries.
Entertainment and Nightlife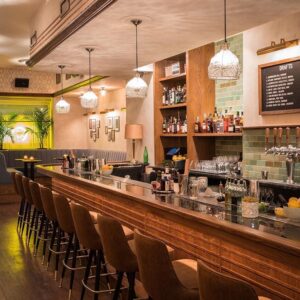 There are a number of entertainment and nightlife venues in the Gold Coast as well. Sparrow is a bar that was recently restored to function with the atmosphere of a 1930s hotel lobby bar. The space was originally a lobby bar for the residents in the apartment building above. Zebra Lounge is a neighborhood classic – a piano bar that's been in business since 1929. It attracts retirees and college students alike with live piano music seven nights a week. Another old bar in the neighborhood is The Pump Room. Since 1938, many celebrities have been sighted here: from Frank Sinatra to Mick Jagger. If you're wanting to dance to your favorite music, Primary Nightclub is your destination. Its wall of LED lights, two bars, and giant dance floor are sure to please. Or, visit 360 Chicago for a 94th-floor view that allows you see four states at once. 
Can't get enough of the Gold Coast Neighborhood? Learn more about retiring in Chicago's Gold Coast at The Clare.